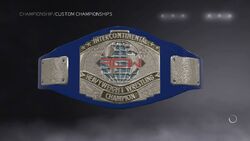 The ACW Intercontinental Championship is a championship belt that currently resides in ACW Impulse. This title can be switched to either show if a draft pick has the person carrying that title. It is the second most important belt in the Impulse brand. Hotspot was the first ever champion to be crowned the belt at ACW Genesis 2007.
The title was originally made on the Excel brand until then-champion Sasuke Uchiha was drafted to Impulse in 2015, thus taking the title with him.
The current title holder is Dark Magician.
Title History
Ad blocker interference detected!
Wikia is a free-to-use site that makes money from advertising. We have a modified experience for viewers using ad blockers

Wikia is not accessible if you've made further modifications. Remove the custom ad blocker rule(s) and the page will load as expected.