All-Styles Wrestling and Awesome Wrestling Entertainment present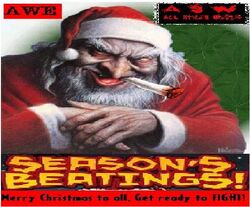 Commentators:TheDevil, Mr. Black, and Joel Knight
Pre-Show Matches
Street Thugs vs Sons Of Skynet
Paul London vs Chuck Palumbo vs Lucien Marious vs Elijah Burke. Elimination Match
Kalamity vs Solid Snake vs Black Dragon. Falls Count Anywhere.
Trevor Murdoch vs Kazuma Kiryu. Extreme Rules.
Seasons' Beatings (The CPV)
Diana Roberts vs Trina Lash. Santa's Little Helper Match for A.S.W Womens' title.
Justin Timberlake vs Bart Simpson.
Agent J vs. Bobby Boucher vs. Jim Carrey?
Chris Redfield vs Nico Bellic vs Jared Crux vs Nathaniel Law vs Green Arrow vs Kargan. AWE invin world title match, elimanation.
Johnathen Magnum vs. Shawn Damian for the A.S.W World title in a Boot Camp match.
Shao Kahn vs Vega, hell in a cell for AWE world heavyweight championship.
Ad blocker interference detected!
Wikia is a free-to-use site that makes money from advertising. We have a modified experience for viewers using ad blockers

Wikia is not accessible if you've made further modifications. Remove the custom ad blocker rule(s) and the page will load as expected.