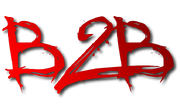 B2B (Bad to the Bone) Wrestling is a CAW wrestling promotion ran out of Chicago, IL, USA.  This promotion takes pride in presenting its shows in a proper, realistic format.  B2B strives to give the viewer a feeling of watching professional wrestling, rather than a traditional CAW-league, or even a soap opera.  Episodes are released less often due to the work that goes into each episode.
B2B has two main brands - FrontLine and ACTION!  Each episode consists of 2-4 matches.
Upcoming Schedule:
FrontLine E01 (January 2013)
ACTION! E01 (TBA)
FrontLine E02 (TBA)

12/26/2012: The Board of Directors voted in Chris Tillman as President of the Board.  Tillman is a successful businessman.  He recently sold an American-based hockey league for $70 million.  He is expected to bring similar success to B2B Wrestling.  A CEO will be appointed by the Board of Directors on episode one of FrontLine.
Championships:
B2B Championship: VACANT
Hybrid Championship: VACANT
Tag-Team Championship: VACANT
Ad blocker interference detected!
Wikia is a free-to-use site that makes money from advertising. We have a modified experience for viewers using ad blockers

Wikia is not accessible if you've made further modifications. Remove the custom ad blocker rule(s) and the page will load as expected.