Big T
Statistics
Names
Big T
T
Height
6'4"
Weight
244 lbs
Born
April 4th, 1991
Birthplace
Baton Rouge, LA, U.S
Died
N/A
N/A
Resides
Houston, Texas
Billed from
Houston, Texas
Trained by
Self taught
Cody
Chris Jericho
Devin Angels
Debut
November 23, 2007 (Independent)
April 4th, 2008 (Pros)
Retired
N/A
Tyler Lane (born April 4, 1991) is a CAW professional wrestler, better known by his ring name Big T. He is currently signed to HWE (Homies wrestling entertainment), HWE2K, & XWB (Xtreme Wrestling Battleground).
He used to wrestle for DKW (Devil Killer Wrestling), New-NxT, and LCW.
He has won both HWE world championships, several tag team championships, a 2012 HWE Hall of Famer, & is currently one half of the HWE Online Tag Team Champions with Devin Angels.
To contact Big T, go to youtube at: http://www.youtube.com/user/BigT4489
HWE (2009-present)
2009 season
Big T was called up to join HWE by his friend Ian blair on April 20th, 2009. Big T agreed to join and geared up for his first match on May 14, 2009. He fought in a losing effort to
Juggalo Joe
, a veteran of HWE, at Saturday nights main event. But despite getting beat badly, Big T was determined to make a impact. He got his long awaited wish to fight the Red Skull at Homies Armageddon where he won after a masked figure came in from the crowd to deliver a chokeslam to set him up for a swanton for Big T's first win. After the win, Big T took part in the Homies rumble 09, where he entered #11. He did well, eliminating Jim waskul, Jeff Nitz, and the Red Skull, before being eliminated by Primo Vega and Violent J. On the next Smackdown, Big T formed a team with fellow newcomer
Thomas
and would become TNT. They defeated the bushwhackers in the first match teaming together. Big T then took part in the Intercontinental championship battle royal to crown the new IC champ since Juggalo Joe was out due to injury. Big T made it down to the final two when Primo Vega got him with a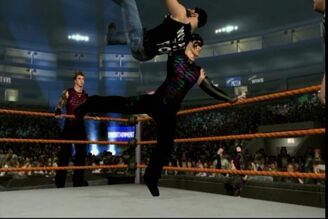 sunset flip to capture the title. Big T demanded a rematch but Ian said no. Big T's next big obstacle was at Homies Way Out,where he teamed with Thomas to fight the Brothers of destruction, The Undertaker and Kane. If TNT won, they got a shot at the World tag titles at Homiemania. This was a hard fought match, ending with a double pin. But Big T was a second quicker then Taker, which TNT picked up one of their biggest wins to date and had their sites set on the gold. On the last ECW before homiemania, Big T beat Jim "WTF" Waskul in a extreme rules match to get ready for Homiemania. At Homiemania, TNT got their new manager, Natasha, and beat the Waskul brothers for the World tag titles. It was Big T's first title in HWE. But as TNT was celebrating their title win, the SD gm,
M
, came down to the ring to issue a challenge to the new champs. He said the other tag titles, the HWE tag titles, where no longer vacated and if TNT wanted to challenge the unknown champs to unify the titles that night. TNT accepted the match was on. The HWE tag champs where non other then the new Red skull and Kroenen. (The previous skull had been killed by Keene earlier in the night). TNT was exhausted from their match they just had so Opus magnum was destroying them. They where on the brink of death when Natasha showed up. She pointed to the stage and out came 30/30-150, which consisted of Vegas and Jr., the two best in HWE. They helped TNT clean house and when M saw that his boys where gonna lose he ordered the match to a no contest.
2010 season
Big T started the 2010 season off by competing in a 6 man tag match along side Sharky and tag partner Thomas. They where fighting the Black Sun Empire, which was their GM M and the Red skull and Kroenen. Big T's team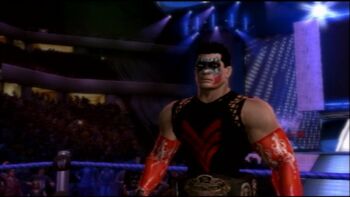 lost after he was pinned by M after he used his emerald fusion finisher on him and pinned Big T. The following week on SD he beat Kroenen in a singles match. At Homielash, TNT beat Opus Magnum in a steel cage match to unify the HWE tag titles and World tag titles and become Unified tag champ. On the next SD, TNT successfully defended the tag titles against Onikage and Z. Big T then took part in the Money in the Bank tournament, where the winner would get the MITB briefcase. In the first round he beat the undefeated HWE hall of famer J via Count out. In the second round he beat Kore via pinfall. In the third round he beat MK after Thomas saved him from being pinned. The final match of the MITB tourney was at Homies Judgment in a ladder match against the IC champ Ajack. Before the final round at the next ppv, Big T was cutting a in ring promo on a ladder when MK and J attacked him and laid out him and Thomas. Big T beat Ajack in the ladder match at the ppv and got the MITB. After the match J gave a F-5 to Big T. On the following Smackdown, TNT defended the Tag titles against J and MK, which they retained after Thomas did a forward leg roll up on MK. At Homies Bash, TNT successfully defended the tag titles against ICP. On the next Smackdown, TNT teamed with the new ECW champ Kore to take on the Outlanders, which they lost after Thunder DDT'd Thomas. TNT then retained the tag titles against The Outlanders at the Homie Slam PPV. Later in the night, after J just beat Dani 2 Dope for World Heavyweight title, Big T cashed in MITB. He came so close to winning but M interfered, giving J enough time to hit a F-5 for the win. Having failed to get the WH title and being screwed by his GM, Big T hunted for M during the HWE draft. TNT lost their manager Natasha to the Raw brand in the first pick of the night. When the draft came to SD, Big T failed to win the the triple threat Tables, ladders, and chairs match, which was won by IC champ Ajack. Big T then attacked M after Thomas had won his draft match and brought 30/30-150 to SD. M had announced it would be 30/30-150 vs TNT for the tag titles at M's Unforgiven ppv, TNT successfully retained their tag titles in a hard fought battle against 30/30/-
150 in a match many consider the HWE match of the year material. After their match, Natasha came down to the ring to tell them they had another title defense against Z and Onikage. Big T and Thomas lost the Unified tag titles to the Black sun empire after Onikage kicked Thomas and got the pin. At Homies Series, Big T lost to smackdown GM M in a match where the stipulation was if Big T lost, TNT's manager Natasha would be sacrificed to bring back the first Red Skull. Big T lost when M transformed to Omega M and Omega M made flames come from the ring as he through Big T into them. However, Natasha was saved by TMO and Extreme Keene as they beat down Red Skull and rescued her. M then got Kratos to be the sacrifice and the first red skull was brought back. At Homies Armageddon, Big T came down to the ring during a match between M and TMO. He low blowed M and gave him a fiery uppercut that caught M on fire. Big T said he was so pissed he put all his anger into that punch. After TMO pedigreed M and justice was served. After Armageddon, the Homies Rumble came around. This year Big T entered at #30 and outlasted every other superstar to win the royal rumble and will main event Homiemania 2010. He was in the last three with former RR winner Juggalo Joe and ECW champ Kore. After kore was eliminated, Big T cloths-lined Juggalo Joe out of the ring to win the rumble. At Homies Way Out, Vince McMahon set out to deal revenge to The Joker who had taken him out at the beginning of the season. After he spun jokers wheel of misfortune to punish Joker, he ended up making the main event at Homiemania into a 6 man match instead of the original 1 on 1. Vince then announced that Joker would defend the HWE title that night against Big T. Big T had Joker on the ropes when Juggalo Joe appeared and RKOed Joker to set Big T up for the swanton bomb. But after he hit the swanton, Juggalo joe hit the RKO on Big T since he remembered how Big T cost him the rumble. After this TMO, Dani, and Kore stormed the ring since they where part of the main event match at Homiemania and chaos broke out. During the chaos, Joker hit Big T with a low blow and a codebreaker to get the pin on the ropes. After the pin Vince came out to announce the main event for Homiemania. The main event would be a 6 man elimination Hell in a Cell match for the HWE title. 6 superstars entered, and one left a champion.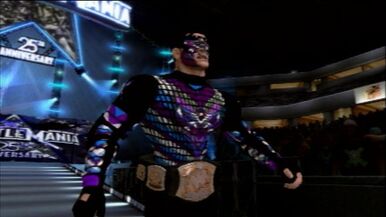 Dani 2 Dope was the first eliminated after Joker codebreakerd her. Next went Kore after a pedigree by TMO. After Joker chokeslammed Juggalo Joe off the cell, TMO and Big T fought it out in the cage. Big T and TMO where back and forth until Joker came in and took out Tmo, then pinning him. Juggalo Joe re entered the ring and RKOed Joker and got the pin, assuring a new champ. Big T was itching to get revenge on Joe ever since he beat him down in his debut match. Both men went back and forth until Big T hit a enigma slam and then a swanton bomb to score the 3 count and win his first ever HWE title. After the match TMO and Big T shook hands and agreed to stay homies through the bad and good.
2011 season
Big T began the 2011 season on the raw brand as HWE champion.
Big T heads to the ring to celebrate his HWE title win but it confronted by Joker, the former champ, with his new goons, Kore and IC champ Ajack. Joker harassed and trash talked Big T until he snapped and attacked Joker. Kore and Ajack hold down Big T in the corner while Joker tries to slap some sense into Big T. TMO, Big T's TNT tag partner, runs down the ramp to even the odds. He throws Big T a chair and fights with Ajack on the ramp. Big T nails Joker with the chair and celebrates but sees Ajack dive off the stage onto TMO. At Homielash Big T successfully beat the Joker in a steel cage match to have his first successful retain as HWE champion. On the following Raw Big T and Juggalo Joe signed the contract to have their HWE title match at the next ppv (JJ beat Kore for the #1 contender spot last night). When they where almost done Kore ran down and started a brawl between the three of them. Big T hit a rock bottom on JJ and then bailed with his title as Kore nailed JJ with his own finisher. At Homies TLFC, Big T again retained his title against Juggalo Joe in a TLC match. Juggalo Joe dominated the beginning of the match but Big T got a second wind and made a comeback. Then Kore came down to the ring to interfere. Big T fought off both to climb up the ladder and pull down his HWE title. On HWE NXT, it was set that Big T would be the pro to rookie Zeke. Big T was at ringside for Zeke's first match vs fellow rookie
Devin Angels
. Big T was informed by Mr. McMahon that superstars where fighting for a spot in the elimination chamber match on the following Raw. Big T's friends and allies didn't fair too well in the matches, leaving him practically no allies in the chamber match. Big T then went to Raw Homies Chamber where Big T defended his title against
Kore
,
Juggalo Joe
,
Joker
,
Cedric the Dealer
, and
Ajack
in a elimination chamber match. The Chamber match would be Big T's toughest challenge yet. He would luckily be locked in a pod when the match started. Big T was the first man released from a pod in the match. He immediately threw Juggalo Joe face first into a pod and then was attacked by Kore.
Due to Ajack beating Big T's friend TMO on raw, these two sought each other out in the chamber. As they fought, Cedric and then later Joker where released from their pods. Following Joe and Cedric's eliminations, Big T now was alone with Joker and his goons. Big T quickly took out Ajack with a whisper in the wind to get the pin on him. The two allies ganged up and beat down Big T and left him lying on the ground bleeding. After a very close near fall, Joker added insult to injury as he hit Big T with his own Rock Bottom. Kore's desire for gold soon got the better of him as he attacked his boss the Joker and eliminated him. Now it was down to the bitter enemies, Kore and Big T. Kore wasted little time and began the assault on the wounded champ. After hitting his signature moves, Kore went for a diving leg drop from the pod roof but Big T rolled out the way. The momentum had changed as Big T then hit a rock bottom followed by a taunting Swanton bomb from the top of the pod. With this he made the pin, got the 3 count, and had retained his title and one of the most grueling matches in HWE History. Because
Vegas
won the world title again at Homies not so well in a cell, Big T was set to fight Vegas one on one, Champion vs Champion, at Homies Bragging Rights in a inter promotional match to see which brands champion is better. M's master plan would be unfolding at the Bragging Rights ppv. Big T would be storm into Vince M's office threw his title down on the desk trying to make a point. Vegas tried to nab the title but Big T got it and nailed Vegas in the face with the title. Big T then left the room.
MK
snapped backstage and attacked Big T as he was leaving the office. Later that night it was Big T vs Vegas in a extreme rules match. It was the first time Vegas and Big T ever fought one on one against each other. Vegas overpowered Big T due to his armor and even added insult to injury by using Big T's own move against him. After a close match Vegas came back with a spear. This was then followed by a punt that knocked Big T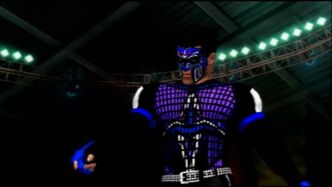 out. He was taken away from the ring on a stretcher. Big T was out of action for a number of months due to a neck injury. The HWE Championship was vacated, and the new champion was determined at M's Kombat.
Kore
eventually won the HWE title in the tournament. Big T made his long awaited return at the main event of Homieslam. During the world title match between TNT tag partner
TMO
and
Vegas
, Big T returned and nailed Vegas with Enigma Slam. Unfortunately, Big T was stunnered by Vegas and couldn't help TMO much. Big T's first time back in the ring was the Homies Rumble, where he entered #25. Before the match Big T vowed to win the match and beat the hell out of Vegas. Sadly this did not come true as Big T was thrown out by his old nemesis
J
, who eventually won the match. On the WCW episode before Night of Chumpions Big T and TMO caught up and talked about what had been happening since Big T was gone. Later that night,
Big T
competed in a HWE championship scramble match against champion
Kore
,
MK
,
Ajack
, and the returning undead
T-Bone
. Although he did not win, he appeared later during the WH title match contract signing and speared J, to get some revenge for the Homies Rumble. At Night of Chumpions, Big T got a his long awaited rematch for the HWE title against then champion Kore in his signature match, the ladder match. The match was very close through out, until MK entered the ring to deliver a sick chokeslam to the champion, setting up Big T to climb the ladder. When the title appeared to be in his grasp, a jealous and angry
TMO
stormed down to the ring, delivered a twist of hate off the ladder to Big T, and pedigreed him just as Kore grabbed the title. Big T was shocked by his longtime friend and tag partner's betrayal. At the beginning of Homiemania, Big T was seen shaking hands and siding with Flash Gorden. Big T then took part in the main event of Homiemania, competing in a 6 man Hell in a Cell for the World title. Big T eliminated his old rival
J
near the beginning of the match. As the match went on, Big T found himself among the final 3 men, against TMO and Vegas. The former tag partners fought Vegas and each other as Vegas' suit powered him up. Big T was about to be punted once again by Vegas when Mystique disguised as Flash Gorden came and hit Vegas with a chair. As TMO looked on Big T nailed a swanton bomb on Vegas and pinned him to eliminate him from the match. As he stood up, Mystique repeated the chair shot, only this time to Big T. This set up TMO to pedigree his former partner and pin him to win the world title in the cell.
Homiemania Revenge Tour
Big T arrived in Liberty City a bit later then most of the other wrestlers. When he arrived he was told he would be teaming with his former friend and current target, WH champion TMO, in a tag team rematch against 30/30-150 against his will. Big T competed in the match, doing most if not all the work, as TMO barked orders to him from the ringside. Big T got very irritated by his orders and nearly punched him.
2013 Season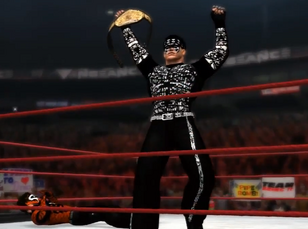 On new years eve, Big T had a match with his rival, World champion TMO,  for his world heavyweight championship at the first ppv of the year, Vengeance. The ppv theme was quite fitting, as Big T got sweet revenge and defeated his former friend at the ppv to claim his first World heavyweight championship and take the belt from TMO. Following his win, Big T would be challenged by IC champion
Lucky T
. The two faced off in their first match one on one for the World title, only to see Big T overcome his friend in a close bout. Big T's next opponent would be against HWE champion MK in a extreme rules match at HWE Antebellum. During a back and forth match, Money in the Bank holder Grand Disciple cashed in his briefcase during the match, causing a free for all. After some more fighting and a fair amount of double teaming, Grand Disciple nailed a kill switch off a ladder to Big T and pinned him to end his reign and take the world title from him. Big T would have one last run in the league, taking part in Final Kombat. His first round opponent was his old rival TMO, leading the two to settle their long standing feud once and for all.
HWE Earth 2
On another earth in another time, Big T still wrestled for the HWE. When this version of the league began, it held a tournament to crown its first heavyweight champion. Big T's first round opponent was longtime friend Devin Angels, but it never occurred due to Devin being suspended for drugs. Big T would move and defeated old rival TMO in round 2, and in the finals defeated the Grand Disciple in the finals to become the inaugural HWE Undisputed champion. During the first night of the weekly show, Big T opened the show declaring his intentions for the league, and later that night he lost a match to T-bone.
XWB
2017 Season
Big T joined the new league that rose from DKW's ashes. In his first match on the inaugural show, he defeated rookie Ash to advance to the fatal 4 way #1 contendership match.
Special Appearances
Representing ASW, Big T competed in the first ever Halloween Havoc event hosted by Blazer. Big T defeated K8, RVD, and Cade Ryans in a 4-Man Extreme Rules Elimination Match. With his victory, Big T won the first Xtreme Maverick Award.
Defunct Leagues
LCW (2008 - 2011)
Big T started his career in his own league, LCW, which he began in the summer of 08 when he started getting into wrestling. He got the idea from his cousin Nick and brother Bo Banner. Big T restarted LCW on SVR 2010 and has invited many of his friends to take part in the league. Big T and Cody had the longest reign as World Tag champions in the leagues history during the 2010 season, holding the belts 12 months and turning back every team they fought. (The titles where vacated when the brand split occurred in 2011) The LCW series began in summer 2011.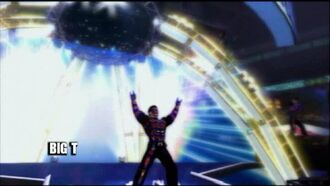 2011 Season
Big T and Cody of RBA meet on May 14th and had the first official draft in the leagues history. Big T drafted new wrestlers to LCW and the series new home brand has become Smackdown!. The first episode of smackdown started with a bang. Big T confronted his longtime friend Tomm Edge out in the ring and told him that he should be crowned the first LCW champ and not Tomm. While they argued Hoang and Drake appeared. They said they would settle this with matches. Big T fought Drake in the first of two matches to determine who would fight for the LCW title at Extreme Rules. Big T fought hard but couldn't put the big man down and lost to Drake. On the next Smackdown, Big T meet Tomm backstage before his match and told him to watch his back because Hoang might try to cheat. During the match later that night Big T aided Tomm when he was being double teamed by Drake and Hoang. After running off Drake he came back to take down both Drake and Hoang with a steel chair to save Tomm. It will be Hoang vs Big T in a #1 Contender match at LCW Extreme Rules. A series of events prevented the ppv from occurring, leaving the company in limbo until Big T and others had more time.
=== ENW (2009)
=
Big T was brought into ENW as the newest superstar sensation to join the league. He made his first and only appearance in the league as the final superstar who was ordered to attack Burn. Big T made his debut, ran to the ring and attack Burn. As he entered the ring, he nailed Burn with a Enigma slam. As he laid in the ring, Big T acquired a ladder and swantoned off of it, crashing down on Burn. After his appearance, the league was shut down after bad business.
ASW (2011-2012)
IC champion and tagging with Suspect
Big T was contacted by the head of ASW on May 23, 2011 and asked him if he wanted a contract. Big T agreed and was awarded the first ASW Intercontinental Championship. Big T made his debut in ASW's first Great Impact show in a match vs The Hurricane. He won in his debut match after a Rock Bottom. On the Extreme Zone show Big T would defend his Intercontinental title against the God of War Kratos in a surprise Cage match. In a close match and with a sick spot where Big T jumped off the cage to kick Kratos off the wall, Big T retained his title in the first title defense by escaping the cage. Earlier in the night Big T meet Suspect backstage and promised to help him regain the ASW Championship that night. Big T kept true to his words and aided Suspect in the match and rock bottomed Anubis DR while Suspect climbed the ladder and pulled down the title. Following this, Big T had a ally in Suspect and began to team with him. They put this team to the test on the Great Impact show when they had a shot at the ASW Tag Team Championships against the champs El Toro Extremo And The Big Dynamite. Big T and Suspect won the match and became tag champs after a Enigma slam by Big T and a pin on El Toro Extremo after TBD left his partner to be pinned. On the next episode of ASW Extreme Zone, Big T and Suspect where called out by Todd Maverick & Golden Thunder. The GM made the match for later that night for the tag titles. Big T and Suspect retained their titles against Todd Maverick & Golden Thunder after Big T made the pin. On the next episode of Great Impact, Big T fought Triple H backstage after he won the hardcore title. After a beat down in the locker room, Big T won the ASW Hardcore Championship for the first time. It was short lived tho as Luis Iron Man amused him and got back his hardcore title. Later that night Big T defended his IC title against El Toro Extremo, who won a steel cage match to become #1 contender last week. The roulette spin equaled it to be a No-count out match. Big T lost the match and his title after the ref got knocked out and Anibus threw El Toro a chair to knock Big T out. On Extreme Zone, Anbus DR called out Big T and said he screwed Big T out of is title because he screwed Anubus out of his ASW Title. Big T came down to the ring and challenged him to a #1 Contenders match for the IC title at the Hard Victory PPV . Anubis agreed and they brawled. Big T then took part in his first ASW PPV, Hard Victory. He opened the show alongside the Suspect, as they defended their tag titles against the Nexus. Big T and Suspect failed to retain the tag titles against the nexus and lost the belts to them. Later in the night, Big T would fight his second match on the card, a #1 contender match for the ASW Intercontinental Championship against Anubis DR. Big T would win the match and become the #1 contender to the IC title.
Move to Extreme Lockdown
As the league became a three brand company, Big T was put on Extreme Lockdown. In the first episodes main event, Big T defeated Rey Mysterio in a steel cage match to win the first round in the Lockdown Champion tournament. After the match Big T was attacked by Tyson Kidd. In round 2, he defeated Drew McIntyre in a singles match. In the finals Big T fought his longtime friend and ally Cody in the finals of the tournament to crown the first Lockdown Champion. In a close fight, Big T nailed a Enigma Slam and got the pin, becoming the first Lockdown champion. With this title win, Big T became the first grand slam champion in ASW history and the first of the triple crown champions. Big T finally got a shot at the IC championship against Big Dynamite on Great Impact. During his entrance however, he was attacked by Tyson Kidd and Geraldo El Chata. At the Survivor Champions ppv, Big T retained his Lockdown championship in a hard fought TLC match against Chata. Following Survivor Champions, Extreme Lockdown was discontinued and the Lockdown title was vacated, making Big T the first and only Lock-down champion.
Move back to Extreme Zone
With the closing of Extreme Lockdown, Big T was brought back to the Extreme Zone brand. After spending a few months on break, Big T returned in a fatal 4 way ASW title match against Tyler King, Freddie Cage, and Larmaris Carter to crown a new champion after Caylen Rogers retirement. Big T was the second man eliminated after Carter hit him with a pedigree after Big T nailed a Extreme Twist on King. Big T stayed on the brand until the company's closing a few months later.
RBA (2010-2011)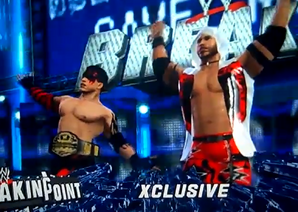 Big T is a part time member of his best friends league RBA. He is known for his time tagging with owner Cody as the infamous team Xclusive, gaining 2 tag title reigns as world tag champs. Big T also captured the US title while making a appearance in November, but lost soon after. Recently Big T made a guest appearance at a ECW house show and won the Hardcore title in a TLC match. He lost it a month later. On the 7/1/11 edition of Raw he made a appearance to challenge IC champion Ethan. Ethan accepted the match and Big T told him it'd be his title vs his career, if he lost hes fired. Big T would win the ladder match, claim the IC title and fire Ethan. He currently makes part-time appearances and visits to check on business when he is not busy.
CTC (2012)
Big T made his debut on CTC Nitro in a triple threat ladder match against his good friends T-Bone and Jeremy Angels. Big T capitalized on the match being for the vacant Light Heavyweight title and won the belt in his first match in the league.
DKW (2010 - Present)
2010 season
Big T entered DKW as part of the Flying Guns. On the first episode of DKW Raw, he and Andy had a backstage interview with Hulk Hogan stating they where going for the tag titles. On Smackdown a few days later, the Flying guns jumped the Army of Darkness while they where talking trash in a interview. Later that night, the Flying guns fought the Army of Death in a tag match. At the Gauntlet vs Champion ppv, The Flying guns where the third and final team to challenge for the tag titles. They then beat the Army of Darkness for the DKW Unified tag team titles. With this title win, Big T has now won the tag titles in every league he has been in. On the following smackdown Big T lost to one of the members of the Army of Darkness because the other attacked Big T at ringside. At the ppv Domination! the Flying Guns defended the unified tag titles against the Army of Darkness. Before the match Andy got attacked so Big T was alone. He came out and told everyone there would be no match since he doesn't have a partner. Saint, the Raw GM, came out and told him tough luck because he would still be defending against the AOD anyway. Big T fought alone against the army but they where too much. He was pinned and the Army reclaimed the DKW Unified tag championships. At Devilmania 2010 the Flying Guns regained the DKW Unified tag titles from the Army of Darkness. In a hard fought battle the guns took it to the AoD and the guns got revenge for the screw at the last ppv.
2011 season
Big T began the new season as one half of the tag champs on smackdown. He is scheduled to be part of the 6 man team representing Smackdown along with tag partner Andy and Vegas vs Raw's DKW champ Scorpion, Nick and MG at DKW Last stand ppv. Big T began to brag that his team was superior and could easily beat Raw. This sparked anger on Raw and on Smackdown when Big T and Scorpion where going to have a match it turned into a brawl as all three members of the Raw team took out Big T and his fellow team mates. At the PPV Last Stand the match was a elimination match. Big T came out last for team smackdown and eliminated MG fast. MG would taught, and Big T was not amused. He quickly eliminated him and then fought DKW champion Scorpion. The match was quite close. Nick (who was eliminated earlier) came down to super kick Big T. But in a shocking turn of events he also super kicked his teammate scorpion twice. Big T capitalized and after a swanton bomb, he pinned Scorpion for the win. Team Smackdown was the winner. On the next smackdown, Big T fought the debuting John Destroyer. Big T showed the rookie that his cocky attitude wouldn't get him far if he couldn't back it up with skill as he defeated him in his debut match. At the ppv No Limit, John Destroyer would attack Big T with a steel pole. The Flying Guns then lost the DKW tag team titles to The Survivors in a tag team match. On the following Smackdown, the Flying Guns got a rematch for the tag titles. When they where closing in on the titles, one half of the tag team champions hit Big T with a chair to get DQ'd, to hold onto the titles. On the following smackdown, The Flying guns informed the Survivors that they would get their rematch at the Impact Ground PPV. At the ppv, the Guns came close to reclaiming the belts but Big T was rolled up for the pin. Andy blamed Big T for the lose and then attacked him after the match. On the next episode of DKW, Big T was cutting a promo discussing his success and addressing Andy. As he was delivering his warning, Andy attacks him from behind. Following this as Andy comes out for his match, Big T dives down from the stage and lands ontop of him, telling him they will meet next week. On the following episode, Big T announces he has been named #1 contender to the DKW championship. As he announced this, Andy once again attacked him. Big T got the better of him, punching him off the stage and swantoning him. At the ppv Broken Chains, Big T defeated his former partner Andy in a extreme rules match, winning after putting Andy through two tables. Following his win, Big T was approached by Divas champion Jewel, who wanted to congratulate him. Big T thanked her and said he is also a fan of hers. He told her they would meet up later. On the following episode of United, Big T gave Krystal some flowers. Andy was seen watching him from the hallway. The following week took on John Destroyer but the match ended dude to interference. After this, Big T would confront champion John X while he was cutting a promo. On the next show, Big T's world title plans were put on hold as Andy came out to the ring and challenged him to a Hell in a Cell match at the next ppv. Andy said he had no choice since he had kidnapped and would "have fun" with Krystal if he refused. Big T accepted the match with his fist as the two fought in the ring before Andy retreated. At the Domination PPV, Big T got sweet revenge as he beat down and pummeled his former friend Andy and beat him in a grueling Hell in a cell match. The next show, Big T reunited with his girlfriend Krystal and got a congratulation kiss for his win. Following this he came out and had a few words for John X. The following week, Big T ran over John X's car. At the ppv Gauntlet vs Champion, Big T was the last person to face champion John X. The two had a very close battle with both kicking out multiple times until Andy came down and ended the match in DQ by hitting both men with a chair. Big T finally got what he deserved at Devilmania, defeating his rivals Andy and champion John X in a triple threat extreme rules match to claim the DKW title.
2013 Season
Big T's first match of the new season was against his longtime rival Vegas. After a very close match, Big T comes out the winner. After the match, TMO comes down to beat up Vegas but Big T saves Vegas and beats TMO down enough to make him retreat. The following week Big T and Vegas challenged the new team of Andy and TMO to a tag match later that night. During the main event, TMO and Andy got purposely disqualified by laying out Vegas and Big T with chairs. This was followed by the Alphas coming to the ring and stomping out Big T. At the Last Stand ppv, Vegas and Big T defeated the Alphas in the gauntlet match with the assistance of the Merc with a mouth, Deadpool. Following him helping the two, Deadpool was convinced by Big T to team with him in that nights main event against John X and ANP, but they lost after the third member of the Alphas interfered and got the them the win over the champ. At the No Limit PPV, Big T successfully defended his DKW title against his rival John X, after numerous close calls, as well as interference from Andy and TMO, with a an assist from Deadpool. After the grueling match, Big T was celebrating his win when Dave Phoenix and John Destroyer appeared on the stage. Dave told Big T he had one more match, and that was due to John Destroyer cashing in his money in the bank briefcase for the DKW belt. John ran down to the ring, and after a few close calls, finally put down Big T and took the championship from him.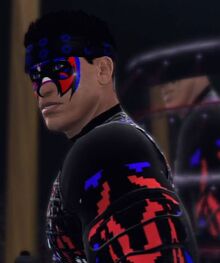 New-NxT
2013 Season
Big T made his debut on the first episode of New NxT in a four way match against rival John X, CM Punk, and Joe Omega for the NxT championship. Big T fared well, pinning both John and Omega, but was pinned after Punk caught him and gave him a GTS. The following episode, Big T fought CM punk in a rematch, but only won by DQ after Punk nailed him with a chair.
Background and Personal Life
Big T is of French decent. Big T is close friends with Devin Angels, Jeremy Angels, Lucky T, T-Bone, TMO, and Crazy Bob.  
T began as a casual fan of wrestling, watching WWE from time to time with his cousin Nick. He's favorite wrestlers include Chris Jericho, Undertaker, AJ Styles, Dean Ambrose, Seth Rollins, Daniel Bryan, Nakamura, and The Rock. He began his training and early wrestling career in the early stages of LCW. When he gained a few minor titles in some developmental leagues, he began to look for the right gimmick. He started using a Jeff Hardy like gimmick right around the time he was called to join HWE. After he joined HWE, his career took off. After HWE slowed down in production, Big T took some time off from wrestling, but as of 2016 has returned to the ring.
In Wrestling
Finishers
- As Big T
Falcon Arrow (2016 - current)
Swanton Bomb (2008- current)
Enigma Slam (Rock Bottom) (2008-2015)
Extreme Twist (F5) (2009-current)
Codebreaker (2008-2010, 2012-current. Used as a tribute to Jericho)
- In Developmental
FU (2008)
Pedigree (2008)
Go To Sleep (2008)
Walls of T (Walls of Jericho) (2008-2010, uses rarely after)
Signatures
Shining wizard combo
Rolling seanton
One Handed Chokeslam
Fisherman Buster
Dancing Leg Drop
Outside crescent kick, Calf kick
Phoenix Splash variations
Running bulldog
T-Bone suplex
Suplex variations
Anaconda vise
Crossface/Lebell Lock
Power bombs 
Championships and accomplishments
1x HWE champion *
1x HWE World tag champ - with TMO
1x HWE tag champ - with TMO
1x HWE unified tag champ - with TMO
1x HWE Online Tag Team Championships -with Devin Angels (Current)
HWE Mr. Money in the Bank - (2010)
HWE 2010 Royal Rumble winner
Official #1 fan
HWE Hall of Fame (2012)
First HWE rookie (09 season and on) to claim a world title
First rookie to claim the Money in the Bank
Defeated 30/30-150
First person to beat J (via count out)
Homiemania Record: 2-1
HWE Slammie award winner - Most Trending Superstar (2012)
* = First reign ended due to injury
HWE2K
1x HWE Undisputed champion (Current & inaugural)
LCW
3x LCW world heavyweight champion
2x LCW Champion
2x LCW US champ
4x LCW world tag champ - with Bo Baner (2), Nick "The Gun" (1), and TMO (1)
3x LCW Intercontinental champion
CTC
1x CTC Light Heavyweight champion
BWE
1x BWE Online Tag Team champion - Devin Angels
DKW
1x DKW Champion
2x DKW Unified tag team titles
GPW
1x GPW United States Champion (Last)
RBA
1x RBA United States Champion
2x RBA World tag team champion
1x RBA Hardcore champion
1x RBA IC champion
Wrestling Themes
Devastate by The Heroes Lie (2016 - current)
Smothered by Spineshank (2012 - 2015)
The Flood by Escape the Fate (2008-2015)
There's No Sympathy for the Dead by Escape the Fate (2011)
"Sounds of Madness" by Shinedown (Used when taging as TNT)
Click Click Boom by Saliva (Used when tagging with Xclusive)
The Crazy Ones by Stellar Revival (3rd theme with The United T, September 2012- current)
The Memory Remains by Metallica (2nd theme with The United T, June 2012- September 2012)
Change the World by Cold (RBA theme)
Issues by Escape the Fate (Royal Rumble return theme)
Last Resort by Papa Roach (Flying Guns theme)
Taking You Down by Egypt Centrel (2009 theme)
War by Sick Puppies (summer 2010 theme)
What do you want from me by the Dreaming (first HWE theme)
Never Gonna stop by Rob Zombie ( 08 summer theme)
Just Close Your Eyes by Story of the Year (first indie theme)
No More Words for the Moment by Kayfabemashups (08 indie theme)
Been To Hell by Hollywood Undead (1st United T Theme) 2011-2012
Tag Teams and Stables
TNT- A tag team formed during the 09 season of HWE between Big T and fellow rookie TMO . They have had great success, capturing the HWE World tag title, HWE tag, and unified the tag titles in a steel cage

match in 2010. They beat the greatest team in HWE history, 30/30-150, as well.
The Fallen Enigmas - A tag team formed between Big T and good friend Devin Angels to challenge their friends the Lucky Bones. After taking the HWE Online tag titles from the LB, the two began to tag together regularly.
The Flying Guns- Big T formed a team with Andy when he entered DKW. They have won two Unified Tag Titles.
Xclusive- A legendary tag team Big T formed with his best friend Cody during the 2010 season. Big T and Cody have been legendary tag champions, holding tag titles for a year in length
Big T and The Suspect - A impromptu team formed on ASW . They captured the ASW tag titles a week after beginning to tag.
Allies and Enemies
Allies
Enemies
Nicknames
HWE's Charismatic Enigma (self proclaimed)
HWE's Ace (Self Proclaimed)
LCW's Greatest tag champ ever (self proclaimed)
The Rainbow Warrior (Given by Devin when wearing his 2010 attire)
The Grim Reaper of Extreme (Given by Devin)
The Kickout King (Given by Devin)
HWE's most successful rookie (self proclaimed)
Xclusivlly skilled (given by cody)
HWE's Most successful T (Given by Devins friend)
HWE Crazy Colored Enigma (Given by Devin Angels )
ASW's Shawn Michels (Self proclaimed)
Biggie 3 Tears ( United T nickname. Given by Lucky T )
Trivia
Big T has been mostly self taught but has honed his skills with a few fellow wrestlers, they include:

Nick LaCour
Chris Jericho

Big T has a rivalry with two HWE veterans in Vegas and Juggalo Joe. Big T is 3-1 with Joe on wins, his loss coming from his debut match and his win coming from the Hell in a cell HWE title match, TLC match, and Chamber matches with Joe involved. Big T is 1-2 against Vegas, the one win being from the first TNT vs 30/30-150 tag match and the two loses coming from the second tag match and a Champion vs Champion match at Bragging rights where Vegas injured him with a punt kick.
Big T is a fan of Japanese Anime, sci fi movies, comics/graphic novels, action films, and various types of video games.
Big T is owner of the league LCW. He began the league when he began caw wrestling and used it as a development league with his friends to hone their skills. He restarted the league in 2011 in hopes of wrestling at home again, but a series of events prevented the league from taking off again.
Big T is a 9 time world champion throughout the many leagues hes been in. He is also a 9 time midcard champion and a 12 time tag team champion throughout his caw career. 
Big T is deemed the offical #1 fan of the HWE league by the owner Ian himself. This title came with his contract to the company and a achivement Big T holds in high regard. He was also inducted into the HWE hall of Fame in 2012.
Ad blocker interference detected!
Wikia is a free-to-use site that makes money from advertising. We have a modified experience for viewers using ad blockers

Wikia is not accessible if you've made further modifications. Remove the custom ad blocker rule(s) and the page will load as expected.