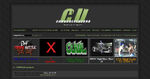 CAW Underground is a forum founded in June 2005 for the posting of CAW Wrestling shows. The Founder of Caw Underground is Ryan. It Has Long Been Praised For Having Very good and Very Creative Wrestling Leagues(EWE), Of Which There Are Still A Few Remaining Today, But Also Criticized For Having Seemingly Turned Into Weirdos Since The Spam Forum Was Introduced In The Summer Of 2006 and they still are. Nonetheless, The Site Itself Is Still Very Respectable And Is, Perhaps Other Than YouTube, The #1 Location For the Best CAW Wrestling Today.
History
CAW Underground started on the invisionfree forums, and moved to the indy source in 2008
External links
Ad blocker interference detected!
Wikia is a free-to-use site that makes money from advertising. We have a modified experience for viewers using ad blockers

Wikia is not accessible if you've made further modifications. Remove the custom ad blocker rule(s) and the page will load as expected.