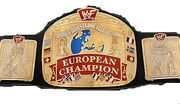 It is a title which can be defended on any show and the belt was bought by DCWL for $5 on Ebay.
Title History
Wrestler:
Times:
Notes:
Scott McShannon
1
He defeated Javori Smart in a Ladder Match to win belt
Dylan Connell
1
defeated Scott McShannon
Emo Shawn Michaels
1
defeated Dylan Connell
Title Unified with the Hardcore belt now called DCWL Lulz Hardcore Title
Jerry Atric
1
def Emo Shawn Michaels in a Battle Royal
Title changed to DCWL Unified One Night Stand Tag Titles
Jerry Atric and Suspect
1
defeated Damar and Fatty Ding Dongs.
Title changed to DCWL Extreme Title

Jerry Atric

1

defeated Suspect via DQ

PFAN
1
Defeated Jerry at NXT's 1st and last CPV Bankrupticy
Vacated
James Porter
1
Defeated James Bond at DCWL Hardcore Ressurrection 2 tournament
Louis Payne
1
Defeated Porter at Neverending Aggression 2
Yao Ming
1
Defeated Payne at DCWL Battlefield 2
Louis Payne
2
Defeated Yao Ming.
Lil Fly
1
Defeated Louis Payne at DCWL vs WCW Cival War.
Michael Jackson
1
Defeated Bryan Coger(Lil Fly) at DCWL's Return Show
Bryan Coger(Lil Fly)
2
Defeated Michael Jackson at DCWL's return show.
Vacant
Bryan Coger injury
Mordecai
1
Defeated Mr.T at FNW White Power
Mysto
1
Beat Mordecai and 4 others in a 6 man battle royal to become final champ.
Vacated
Title is retired July 14,2012
Ad blocker interference detected!
Wikia is a free-to-use site that makes money from advertising. We have a modified experience for viewers using ad blockers

Wikia is not accessible if you've made further modifications. Remove the custom ad blocker rule(s) and the page will load as expected.