DMW Championship
Details
Current champion(s)
Optimus Prime
Date Won
18 October 2007 - DMW Redemption 2
League
DMW
Brand
Fantasy
Introduced
June 2005
Retired
Most reigns
First Champion
James Dark
Last Champion
Longest Reign
Optimus Prime (18 Oct 2007 - Current)
Shortest Reign
Majin Buu (28 July 2006 - 10 August 2006)
Heaviest Champion
Optimus Prime (35 or 40 tons)
Lightest Champion
Other Name(s)
Past design(s)
The Dream Match Wrestling (DMW) Championship is a CAW world heavyweight championship in Dream Match Wrestling (DMW). It was created in 2005 and is one of the oldest titles in DMW next to the DMW Tag Team Championship, the DMW Women's Championship & the DMW World Championship. The DMW title is currnetly exclusive to DMW: Fantasy.
Current Champion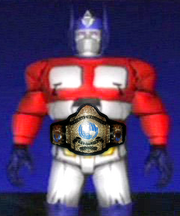 Optimus Prime is the current DMW Champion. He defeated The Kingpin for the belt at DMW Redemption 2 in October 2007












List of DMW Champions
#:
Wrestler:
Reigns:
Event/Show:
Notes:
Successful defenses:
1
James Dark^
1
Unknown
Named champion at the start of DMW in 2005
1
The title was held up after James was stripped of the title by owner UT at a early Nightmare show for disrespecting everyone and not wanting to defend the title not on his own terms.
2
Randy Orton^
1
DMW SummerPlex 2005
Won a 10 man battle royal match
1
3
Predator^
1
DMW Enter Hell 05
Defeated Randy Orton in a no holds barred match
3
4
Majin Buu^
1
DMW SickFest 2k6
Defeated Predator in a TLC match
0
5
The Kingpin^
1
DMW NightMare Show 16
Had the title handed over to him by Buu
2
6
Optimus Prime
1
DMW Redemption 2
Defeated The Kingpin
7
Notes