This is the biggest CPV in the history of DWA, this is the night where the stars of DWA are gonna shine.
Tonights Card:
Hardcore Invitational(4 way elimination battle royal for Hardcore title): Ahmed Johnson (c) vs. Inspector Gadget vs. The Anti-Flash vs. Captain Jack Sparrow
TLC Match for the DWA Tag Team Titles: Elvis Presley and Kenny Chesney(c) vs. Wayne & Garth
MITB Ladder Match(Winner has the opportunity for a DWA Heavyweight title shot any time they choose): Michael Heinman vs. The Rocketeer vs. Victor Fang vs. George Costanza vs. The Butcher vs. Johnny Cage
Hell in a Cell: Sherlock Holmes vs. Shaun of the Dead
Interpromotional Battle DWA vs. TNA vs. WWE: Captain America vs. Kurt Angle vs. Randy Orton
30 Minute Iron Man Match: Vega vs. Seth Stern (URWL)
Interstar Championship Match: Lance Burton (c) vs. Apocalypse
DWA Heavyweight Championship Match (NODQ): Al Capone (c) w/Christy Hemme-Capone vs. Nightwing.
Results
| # | Result | Stipulation |
| --- | --- | --- |
| Burnout  | Lyold Christmas (with Harry Dunne) defeated Drew Carey | Singles match |
| 1 | Ahmed Johnson (c) defeated Inspector Gadget, The Anti-Flash and Jack Sparrow | Hardcore Invitational for the DWA Hardcore Championship |
| 2 | Elvis Presley & Kenny Chesney (c) defeated Wayne's World (Wayne & Garth) | TLC match for the DWA Tag Team Championship |
| 3 | George Costanza defeated Michael Heinman, The Rocketeer, Victor Fang, The Butcher and Johnny Cage | Money in the Bank ladder match |
| 4 | Sherlock Holmes defeated Shaun of the Dead | Hell in a Cell match |
| 5 | Kurt Angle defeated Captain America and Randy Orton | Interpromotional Triple Threat match |
| 6 | Vega defeated Seth Stern | 30 Minute Iron man match |
| 7 | Lance Burton (c) defeated Apocalypse | Singles match for the DWA Interstar Championship |
| 8 | Al Capone (c) (with Christy Hemme-Capone) defeated Nightwing | No Disqualification match for the DWA Championship |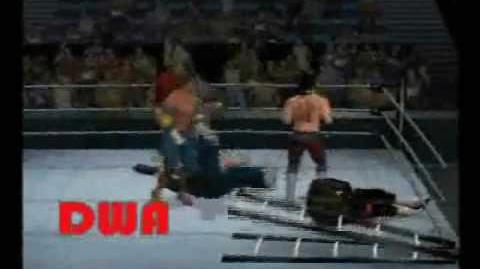 Ad blocker interference detected!
Wikia is a free-to-use site that makes money from advertising. We have a modified experience for viewers using ad blockers

Wikia is not accessible if you've made further modifications. Remove the custom ad blocker rule(s) and the page will load as expected.