Well tonight is the biggest party of the summer for DWA. Coming to you live from Orlando, Florida, the DWA is ready to blow the roof off the Amway Arena.
Card:
Road To Glory Finals: Lance Burton vs. Niko Bellic
DWA Tag Team Championships: Kenny Chesney & Elvis Presley(c) vs. Wayne & Garth
Brand Supremacy Match: Destruction: Johnny Cage vs. Voltage: Spawn
DWA Electryfying Championship Ladder Match: Predator(c) vs. Mr. Kennedy
Last Man Standing Match: Vega vs. Apocalypse
World Heavyweight Championship Steel Cage: Victor Fang(c) vs. Rocketeer
DWA Heavyweight Championship NODQ: Nightwing(c) vs. Lance Burton/Niko Bellic
| # | Result | Stipulation |
| --- | --- | --- |
| Preshow  | Captain Murphy defeated George Costanza | Singles match |
| 1 | Niko Bellic defeated Lance Burton | Road to Glory finals |
| 2 | Wayne's World (Wayne & Garth) defeated Kenny Chesney & Elvis Presley (c)  | Tag Team match for the DWA Tag Team Championship |
| 3 | Johnny Cage (with Sherlock Holmes) defeated Spawn (with Barry Bonds) | Brand Supremacy match |
| 4 | Predator (c) defeated Mr. Kennedy | Ladder match for the DWA Electrifying Championship |
| 5 | Vega defeated Apocalypse | Last Man Standing match |
| 6 | Al Capone defeated Spider-man | Singles match |
| 7 | Victor Fang (c) defeated The Rocketeer | Steel Cage match for the World Heavyweight Championship |
| 8 | Nightwing (c) defeated Niko Bellic | No Disqualification match for the DWA Championship |
2 - Stay Puft Marshmallow Man attacked Wayne & Garth.
8 - Niko kept attacking Nightwing after the match but Captain Murphy saved him.
Hardcore Madness
Zombie Shaun, Ravishing Rick Rude, D'Lo Brown, Kane, John Cena, Stay Puft Marshmallow Man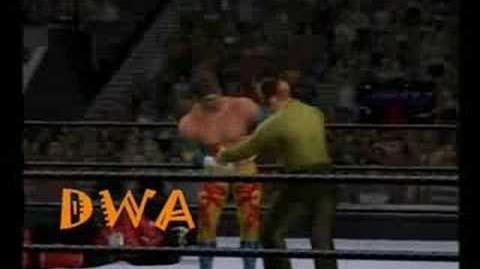 Ad blocker interference detected!
Wikia is a free-to-use site that makes money from advertising. We have a modified experience for viewers using ad blockers

Wikia is not accessible if you've made further modifications. Remove the custom ad blocker rule(s) and the page will load as expected.