Damian MISERA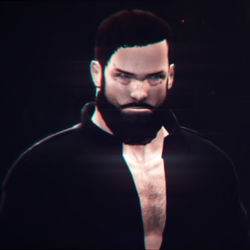 Damian MISERA shot during the L.E.G.E.N.D Signature.
Birth name
Damian Noah James Osteros
Resides
Paradise Valley, Arizona
Tokyo, Japan
Professional wrestling career
Debut
2007
Nicholas James Damian (born 2 September, 1985) is an American professional wrestler, better known by his stage name Damian MISERA, or simply MISERA. He is signed to L.E.G.E.N.D. Wrestling and TIGR Pro.
Personal Life:
Born into an unexceptional family, Damian would have a carefree boyhood with nothing left to be desired.
Damian's first overtures towards professional wrestling just so happened to be his early interests in martial arts and sports alike, such as Judo and BJJ. After receiving the blue belt in Gustavo Dantas' at a relatively young age of eighteen, he would join Power MMA and Fitness in Gilbert, AZ. Here he would receive the purple belt and even become an assistant coach for the new students in kickboxing. He would leave the academy in early 2006.
Following his MMA success, the young man joined the Sun Devil Wrestling Camps where he would remain among the best up and comers up until his pro-wrestling debut.
Global Wrestling Association:
"Am I breaking fresh ground here? Have I aligned myself with your anti-hero? No, I joined the devil."
Breaking into the big leagues in late 2007, Damian's first of many stops would define his disposition for the following year to come. After countless training sessions and preparation with his older cousin Wheeler, who at that time was the poster child of the Global Wrestling Association, and even more sleepless nights, he had finally received the invitation he had hoped for so long. In his debut match, he would find himself among GWA's finest for a title shot at any time. Never before has someone debuted in such a household match type like this before, and it was that match that had people on notice for the young man. Coming so close to making the biggest debut impact in GWA history, Damian fell just short to the cunning tactics of Noah Gibson; one of, if not, the most hated in the business.
What many considered strong contacts left a sour taste in not only his mouth, but the whole locker room. The young and reckless newcomer would find himself on a personal vendetta, eager to prove to the world that he was more than just the "cousin of the poster boy". Casually and with a mindset of surpassing the rest of the roster, he went through GWA originals, newbies and former champions, up until he had the chance to finally redeem himself when the National Championship was up for grabs. After a terrific ladder match, it was, much to the surprise of the roster, Damian that stood tall on not only the steel version, but the proverbial one as well. But the championship triumph would be rendered short lived when Hall of Famer Jake Storm stepped up against the young up and comer, beating him for the gold and yet again leaving Damian with nothing.
This misleading storyline brought up a heap of anger inside of the young man, so far that he'd align himself with Jonny D. With a newly found hatred for the higher ups the duo would go on a crusade, dragging the history of GWA through the mire with various improper actions and even several, deliberately no-showings. Eventually Jonny D was released due to a backstage conflict with the higher ups. After this controversial pairing, Damian was bumped down to the mid-card where he could be found swirling around for the better part of 3 months, which may be referable to his substance abuse problem.
This marks the start of Damian's dark past. Running out of estate to secure his place in GWA, Damian did nothing but let himself sink in even lower. Various suspensions for violating the wellness policy were only the icing on the cake aggregated with his actions and his substance abuse problems. With the segregation of GWA signalized and being right around the corner, Damian had lost any and every inspiration that had him cling on to GWA.
Ring of Chaos:
"If it has to be under these circumstances, I'd much rather eat dirt."
With the partition of GWA and the emergence of IAW and ROC, Damian had to make a decision. Would he follow the Sons of Chaos and their relentless attitude into ROC, or would he follow Battle Hart and Bustah into a world ruled by dictatorship into IAW? The decision was easy, and while he wanted nothing more than to finally carve his name in stone, he followed Justin Lee and his Sons of Chaos into The Ring of Chaos, which soon would render itself to have a pendulum effect. He was given everything he had hoped for. Everything he's ever needed to prove himself was right in the palm of his hand, and everything was crushed upon him in a matter of seconds.
The owner and CEO of The Ring of Chaos had trusted the general manager role in the hands of the seemingly matured Damian, but with his Napoleon Complex kicking in, it wasn't long until he and the board had to strike different ways.
All Original Wrestling
"The world isn't a bowl of shit, Alexander, and you're not sitting on top of it either."
After an extended break from the scene, Damian along with various figures and friends from previous federations joined the fresh, ground-breaking All Original Wrestling. While Damian was no stranger to the viewers at home, it wasn't long until he and Jonny D found themselves together again. This time with a more arrogant and disrespectful manner than before, the duo went on to lead the race for the AOW Tag Team Championships, if it wasn't for Divine Power (Alexander Monroe and Nic Virtue). The vastly different duo, which Jonny D and Damian would learn to know inside and out, would induct, capture and defend the AOW Tag Team Championships with ease. On three different occasions Jonny D and Damian would find themselves on the losing end against Divine Power and with that pain in the back of Damian's head, he knew he had to drop some weight off, and that weight would soon be Jonny D.
AOW World Heavyweight Championship and Undisputed Championship:
While Divine Power were having their own problems, Damian along with Jonny D, Zack Blake, Leon Slade and Ace Rose were booked in a Championship Scramble match to determine the very first AOW World Champion. With only 20 seconds left on the clock and four more hungry animals sitting in the back, Damian would finally get a pin fall over a downed opponent, and with the clock finally striking 0, the very first AOW World Champion was crowned in Damian.
This would lead into a small but violent storyline with Ace Rose, with both ends being on the receiving end of countless, vicious assaults. However, the storyline would come to a halt when Ace Rose left AOW without a notice.
On the next episode of Showdown, another up and comer in Justin Tyme registered interest in a shot at the prestigious gold. With Damian's urge to prove himself among the best, he and Justin Tyme, who at the time would find himself on an impressive winning streak, were to play mindgames on each other over the course of the next few week. Albeit not beating Damian in his first attempt, Justin Tyme bounced back and captured the AOW World Heavyweight from a different competitor just shortly after.
With the announcement of the unification of both the World Title and World Heavyweight Title, Justin Tyme and Damian once again went face to face. The weeks leading up to their bout Damian would look invincible, however, with the help of Alecks Young, Justin Tyme was able to unify and capture the AOW Undisputed Championship in AOW's first TLC match.
Weeks of desperate measures would follow for the former World Champion, and with Justin Tyme and Alecks Young reigning supreme, Damian knew he had to fight his way back to the top.
To everyone's surprise, Justin Tyme dumped Young in favor of himself, which only benefited Damian. During their rematch, when everything seemed lost for the former champion, much to the surprise of Tyme, Alecks Young made an appearance on Damian's side. As Tyme heralded the start of his finishing sequence, it was Young that grabbed Tyme by the leg and with that he set up Damian for his Wake Up Call, and with that Damian once again became the top guy in the company.
However, it wasn't long until the next guy in-line in MONROE, who just prior to that won a number one contender's match, declared war with the champion. Weeks of mindgames and psychological warfare would follow for both parties up until Damian rose to the occasion by beating MONROE and therefore retaining the title, but the night wouldn't end there for the young man. After extending his hand in respect, Damian would find himself on the receiving end of a brutal beatdown by the hands of MONROE, rendering the champion injured for the weeks to come.
While MONROE disappeared for the following week, it wasn't long until the reckless Star Destroyer returned with a game plan. MONROE, along with several hooded figures, returned to AOW the following week and furiously attacked the champion, leaving him in a bowl of his own blood. The attacks would continue up until MONROE successfully captured the AOW Undisputed Championship at Net Night, which would be AOW's last televised show.
Ring of Chaos
"Have I ever stood up to you? Have I ever stood in your way? Have I ever told you how much I hated you?"
After his stay in AOW, Damian would return home to the Ring of Chaos, but this time, he'd have a different approach to his arsenal. While previously consisting of showmanship and a more high-flying offence, his arsenal would now have a wide Japanese influence, something that hasn't been seen before in neither GWA nor ROC.
Evidence of Damian's showmanship losing grip was only of the things that would see the light of day during his stay in AOW, and with that, a whole new Damian stepped through the doors of ROC. While most of the old faces were still around and remained the same, it was Damian's face that changed the most. Various brutal assaults and questionable promos led up to Damian holding both the Television and the Pure Championships in quick successions. However, he'd lose both of them shortly after.
In his own words, "the facades that were painted all over the faces of the talent set free an extent of rage and frustration in Damian's body", so much that he let it out on backstage figures and innocents, thus another suspension would follow for the young man.
With his return to ROC, he proposed to make sure to usher into a new era along with everyone, and while the delivery of that message seemed very positive, it had people wondering if Damian changed, the message itself though was some a lot darker and sinister. Week after week, Damian would question the higher-ups and their decisions and chase down his mentor Wheeler who, in Damian's mind, would be seemingly hotly favored by management. Damian would dissent and react with violence. That was until a match between the two of them was slated in which Wheeler prevailed, but Damian's revolt wouldn't be over.
ROC Contract in the Case, World Championship and Gods of Serengeti:
Avenging and even more brutal, Damian went on a successful winning streak and with that he'd qualify himself for a match that'd determine the last entry for the first Contract in the Case match at ROC's biggest event; ROC CyberSlam. While Alec Rays, the one beating Damian for both championships earlier that year, was on a hot streak and qualified for a shot himself, these two would meet one more time. Afterwards, the match was billed as "Rays' quickest loss to date". Riding on a wave of momentum and hatred for the world, Damian stepped into CyberSlam not only wanting to win this match, but being able to hold ROC in the palm of his hands, and after a gruesome ladder match filled with blood and broken bodies, it was indeed Damian who stood tall above the rest.
Countless weeks of psychological warfare with champion VLK and number one contender Dane Xavier would follow with Damian making random appearances on the stage, boasting and showing off the briefcase that would enable himself to capture the World Title whenever he wanted to, but he wouldn't. At first it seemed that Damian was out to help Xavier, but that reliance was short-lived. VLK and Xavier would find themselves in a ladder match at the last Anarchy before ROC's next PPV; Vendetta, and with both competitors striving to keep the momentum steady, the match would end in a no-contest when Damian caused both of them to dive throw a table.
The Championship Match at Vendetta boiled down to a rather one-upping as VLK and Xavier hit their finishing maneuvers repetitive in quick succession and when Xavier finally kept VLK down for the pinfall, it was Damian's time to shine. Damian had been in a match against VLK's best friend, The Black Panther, just prior to that match, but with still enough power left in the tank, he would cash in and with that render Dane Xavier the shortest title reign in ROC history with a little under 30 seconds.
The following weeks, Damian would push all boundaries possible and along with new hire and manager Jacob Miller, the champion would conceive a contract that comprised a clause that read that anything these two would do, as long as Damian was champion, would have absolutely no power to fire either of them, and they would flagrantly take advantage of that. However, the next night, while Damian ran havoc over ROC and its management, Jonny D would find himself in a number one contender's match along with former champion Dane Xavier to determine Damian's challenger at XMAS Chaos. With Jonny D picking up the win over former World Champion Xavier, a rage of frustration showed in Xavier, which would be the trigger for his release the following week. At XMAS Chaos, with the world watching, the two best friends squared off for the biggest gold in ROC history. As it seemed, with Jonny D successfully scooping the title, a fresh chapter was upon ROC, but that illusion was proven to be wrong when Jonny D aligned himself with Damian and VLK to form the Gods of Serengeti a few weeks later. Despite never being able to take the tag team gold off of Drunken Justice, chaos and anarchy were indeed the Gods' motto. With total domination, the Gods of Serengeti transfixed ROC with their dark and sinister practices up until the point where due to a lackluster size roster, stables were meant to be broken up. Damian left the ROC shortly after.
In Wrestling:
Finisher Moves:
Burakku Sunrise (Brainbuster; sometimes as a Single-Underhook variation)
Saigai Burakku Sunrise (Jumping Brainbuster; most commonly onto a table)
White Akuma (Guillotine Choke)
Signature Moves:
Ankle Lock - Rarely
Boston Crab; while kneeling on the opponent's back or neck
Cross Armbreaker
Double Underhook Powerbomb - Rarely
Dragon Sleeper
European Uppercuts
Fujiwara Armbar
(Jumping) Kneeling Reverse Piledriver
Multiple Knee Lifts
Multiple Suplex Variations

German
Devil-Plex (Leg-Hook Saito)
Devil-Plex II (Bridging Leg-Hook Belly-to-Back)
Dragon
Half Nelson
Double Underhook
Exploder
Hatch
Snap

Hammerlock; almost always transitioned into a Single-Legged Camel Clutch
SCORPIA Stretch (Arm Trap Cross-Legged STF); almost always transitioned into a Boston Crab
Sommersault Suicide Senton
Tornado Kick / El Niño (Jumping Corkscrew Roundhouse Kick)
Nicknames:
"Your God"
"White Akuma"
"The Sun Devil"
"SCORPIA"
Wrestler Connections & Relationships:
Allies
Hayden Summers (girlfriend/soon-to-be wife)
Chloe Takashi
Joey Legend
Miranda King
Rivals:
Anthony Wheeler (cousin)
Dane Xavier
Justin Lee
Zack Blake
Accolades:
Global Wrestling Association
GWA Platinum Championship (1 time)
All Original Wrestling
AOW World Championship (1 time)
AOW Undisputed Championship (1 time)
Ring of Chaos
RoC Television Championship (1 time)
RoC Pure Championship (1 time)
RoC World Heavyweight Championship (1 time)
Theme Music:
Ad blocker interference detected!
Wikia is a free-to-use site that makes money from advertising. We have a modified experience for viewers using ad blockers

Wikia is not accessible if you've made further modifications. Remove the custom ad blocker rule(s) and the page will load as expected.