Destiny Anne Reed
Statistics
Names
Destiny Anne Reed
REED
Rod Reed
Height
6'2
Weight
245 lbs
Born
July 18th, 1979
Birthplace
HOUSTON
Died
HOUSTON
HOUSTON
Resides
HOUSTON
Billed from
HOUSTON
Trained by
Dory Funk Jr. Gym
Debut
2013
Retired
N/A
BORN IN HOUSTON, THE END.
Personal Life
Destiny Anne Reed is a CAW Superstar signed to DCO, she was born in Houston and is a transgendered woman.
She was originally born as Rod Reed, and competed under that name until 2016, before rebranding as "REED" until transitioning in 2017.
Arrest
On April 9th, 2016, Reed broke into the home shared by the Queerstreet brothers (Gaylord and Rod Queerstreet) and their cousin Daryl in Gainesville Georgia, and brutally murdered them all with a lawnmower blade. After police discovered the bodies and news of the murders aired, Reed turned himself in and confessed, citing the motive was him suspecting that Daryl's girlfriend (name withheld) had stolen his Playstation Vita.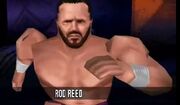 Escape
After several weeks behind bars, awaiting trial, Reed became bored of prison life. Fortunately for him, Satan jumped from hell and helped him escape his cell. After killing numerous guards and fellow inmates with his bare hands, the Houston native fled prison. Soon after his escape, he began to dress as a woman and became known simply as REED.
As of May 2017, he still has yet to recover his Playstation Vita, and has allegedly started a GoFundMe campaign to gain funds in order to convince whoever is in possession of it to come forward and return it.
Sex Change
On July 10th, 2017, it was revealed that Reed not only began to identify as female, but had, in fact, undergone gender re-assignment surgery, and legally changed her name to Destiny Anne Reed.
Less than a week later, Reed went to trial for the triple homicide of the Queerstreet Family. In a shocking verdict, the judge found Reed not guilty and exonerated her of all charges, finding the homicide to be justified after concrete evidence was brought forth that Daryl had, in fact, stolen the PSP Vita.
Finishers and Signature Moves
Championships and Accomplishments 
Theme