Devil Goat
Statistics
Names
Devil Goat
Height
7 ft 0 in (2.13 m)
Weight
323 lb (147 kg)
Born
 ???
Birthplace
The Fires of Hell
Died
 ???
 ???
Resides
Underneath the ring
Billed from
The Jersey Shore, New Jersey
Trained by
Onision
New-NAW/AWP Independent Training Facility
Debut
2010
Retired
Devil Goat is a signed IWT superstar and a former CAW Champion of Champions. He is from the fires of Hell and yet has no ears.
Its Walleh Time
Early beginnings
From his emergence from the Sister E-fed Suspect Extreme Extreme (SEX) he was immediately granted a spot on the Roster of IWT. In his first match he would lose a fierce first round Road to the Gold Tournament match with Oshujax. After that he would reappear again at IWT One Night Stand to win his first round match against Javori Smart but lose out in the second round to Kenzo Suzuki.
Project Devil Iconic
Devil Goat on the 1st of May 2011 was handed the IWT Legends Tag Team Championship by The Suspect and told him to choose a partner in order for people to challenge for them. Devil Goat struck up a friendship with Oshujax and formed the team known as Project Devil Iconic. The tag team was short lived as the Nation of Domination would defeat them for the titles on an IWT Stream.
Championships and Accomplishments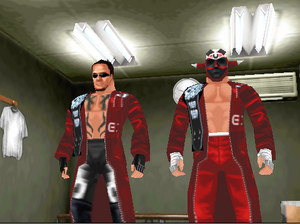 Fat Niggas Wrestling

FNW Tag Team Champion (x1) -with Matt Eichorn and Danny Jackpot
FNW South African Heavyweight Championship (x1)

It's Walleh Time
Other Acomplishments
Finishers and Signatures
Tombstone Piledriver
Chokeslam
Theme
Fat Fat Burger Burger - Onision
Ad blocker interference detected!
Wikia is a free-to-use site that makes money from advertising. We have a modified experience for viewers using ad blockers

Wikia is not accessible if you've made further modifications. Remove the custom ad blocker rule(s) and the page will load as expected.