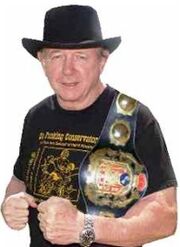 The Dory Funk Jr. Gym is a CAW training facility. It was the training ground for many joke CAWs.
Contrary to the name, it is unknown whether or not Dory Funk Jr. has anything to do with the gym, whatsoever.
Graduates
Trivia
While Biff Andreas was trained by Dory Funk Jr., it is unknown whether or not his training took place inside the mythical gym. In late 2013, Biff Andreas revealed that he was in fact trained in the gym, and was discovered by Danny Jackpot during his training.
Rip Beefgnaw holds the distinction of being the only DCO original to have not been trained in the Dory Funk Jr. Gym, instead having received personal training by Verne Gagne.
Ad blocker interference detected!
Wikia is a free-to-use site that makes money from advertising. We have a modified experience for viewers using ad blockers

Wikia is not accessible if you've made further modifications. Remove the custom ad blocker rule(s) and the page will load as expected.