EXTREME CHAINSAW WRESTLING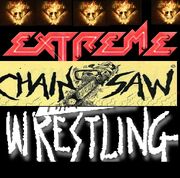 ECW is a caw show with two shows ECW Impact and ECW Attitude - ECW Attitude is develoment show.
All ECW Episodes are on youtube follow the links
http://www.youtube.com/user/TheMrHollywood
The Begining-
ECW Has not officaly started yet...
'''''
Roster
Wrestlers
Lil Soulja
Alexander The Great
Goldberg
Insano
Tyson Knox
Nathan Slash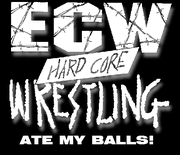 Ryan
Icedude
Hitman
Brett Kid
Scorpio
Mr. Money
Nathan Hazard
Carlos Cool
Ricky Yoshouri
Tomko The Samoan
Andros- The Red Space Ranger
Colin X
Rob Van Dam
Smoke
Blake
Ronald McDonald
Kid Punk
Corey Micheals
Mr cool
Ice
Hell Dragon
DIVAS
Soulja Girl
Candice Michelle
Ashely
Yellow Space Ranger
Torrie Wilsion
Champions:
ECW Impact:
ECW World Heavyweight: Hell Dragon
ECW Hardcore Tag Team: NWO
ECW Million Dollar: Ricky Yoshouri
ECW Knockouts: Soulja Girl
ECW Attitude:
ECW Attitude Champion:
ECW X-Division
Tag Teams:
BrotherHood: Nathan Slash and Mr.Money
NWO: Colin X and Blake
Unstopable Force: Ice and Tyson KNOX
X-Factor: Cory Micheals and Mr Cool
Couples:
British Foundation: Ashely and Alexander The Great
Soul Assasians: Soulja Girl and Kid Punk
Power Rangers In Space: Andros and Yellow Ranger
Carlos Cool and Torrie Wilson
Ad blocker interference detected!
Wikia is a free-to-use site that makes money from advertising. We have a modified experience for viewers using ad blockers

Wikia is not accessible if you've made further modifications. Remove the custom ad blocker rule(s) and the page will load as expected.