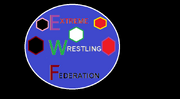 The Extreme Wrestling Federation (EWF) is a CAW league full of original characters created by a group of friends. The league is billed as a created wrestling show that has held dark matches since late 1986 (Storyline). It started airing full episodes on September 23rd.
Link To Dark Star Press Gaming: https://www.youtube.com/user/Meckrocz/featured
Administrators
Founders: Mitchell Rayne, Blood Pain, Satya Owners: John Rayne & BP CEO: Ms. Koren "Satya" Deaner Commissioner: Andrew Bogart
Origin
Kido, the creator and owner of the promotion, had joy of creating wrestlers and other characters on WWE video games in his young childhood. Since 2002 of his birthday, October 1st,he had started creating storylines for his characters. Soon after, a few close friends joined him in this saga of endless creations and rivalries. After Smackdown Vs. Raw 2007, the crew began to take their CAW works more seriously and decided to perfect their characters looks, personality, movesets, entrance, and status. Having the hopes of one day, showing their creativity to the world.
Character Design
The thought for most of the leagues characters were to honor some of the designer's favorite pro wrestlers in reality or even a few inspirations came from video games, movies, anime & manga, and many other sources. The Murakumo unit faction and the brand was inspired from Katsumi 14's (Founder of Murakumo) favorite fighting game series, Blazblue. EWF Juggernaut, The Menace's moveset3 was inspired by the late WWE superstar, Chris Benoit.
EWF Roster
The Menace (Juggernaut) Harry The Killer Blood Pain (Juggernaut) The Mighty Core (Juggernaut) Chills (Sakura) Raiden Phantom (Juggernaut) Needles Steel Jinx (Sakura) Nanaya (Sakura) Tia Metal (Sakura) Lilith Hunter (Sakura) Jennifer (Sakura) Guantlet 12 Nu. 13 (Sakura) Cyborg N.O 13 (Sakura) Nina Wanabadi (Sakura) Mason Storm (Juggernaut) Pride Scatter Yuri Meticulous (Sakura) Jonathan Kyle Johnny Cash Gnu.9 (Sakura) Sai Nora (Sakura) Butterfly (Sakura) Jacob Casa Stego Cass Donny Baker (Juggernaut) Kevin Baker Carl Baker Taylor Baker (Sakura) Sarah Lee (Sakura) Violet Vandiver (Sakura) Azrael Yamashita (Sakura) Leon Strong Lex The Beast Johnny Taker Blake Dynamite Blaster Blader Ryan Barnett Kat The Kid Desperia (Sakura) J.S May Lovecraft (Sakura) Sasha Otani (Sakura) Bongo The Clown Jeff The Killer Katsumi AJ Styles Kylie Summer (Sakura) Melissa (Sakura) Schroeder Damen Swift Virgo Ren The Crusher K.O Boxx Sadistik Plague The Fallen Starr (Sakura) Mikasu (Sakura) Lay Lay (Sakura) Lauren Torres (Sakura) Young Red (Sakura) Paul Clover
Current Brands
Much like the WWE with Smackdown and Raw, EWF is separated into brands. In this case a few.UCW was launched in 1993 to compete with Monday Night Raw. In 1995, World Championship Wrestling (WCW) launched Monday Nitro. Thus,the Monday Night Wars began. By late 1997,UCW made an early exit from the ratings battle due to finacial corruption.
In 2004,the EWF temporarily shared arenas and storylines with the WWE,acting as a part of the rival promotion's actice roster.
By 2012,the EWF finally solved their finacial issues and was able to afford using their own arenas again. UCW,Body Slam (Purchased by LWA),Sakura's Division (Announced after LWH I),Murakumo,LXT,and Body Slam were launched by the company.
UCW (Ultimate.Championship.Wrestling)- The 1st and oldest running brand of the promotion.
     Monday Night UCW: October 4th,1993 - Present, Youtube Debut: October 1st,2014

LXT (Lethal.Xtreme.Takers) - Originally opened house shows in Afghanistan for the US troops. It soon became a minor brand to replace Body Slam after the LWA had purchased it.
Tuesday Night LXT: N/A
Sakura's Divison - Is a weekly brand that airs on Youtube that exclusively features the EWF's female wrestlers,the Sakuras. The brand was founded by EWF Sakura,Nu 13.

Wednesday Night Sakura's Divison: August 8th 2012 - Present, Youtube Debut:October 4th,2014
Murakumo - Is a weekly brand that airs on Youtube. The brand was formed by the legendary faction, the Murakumo Unit.

Thursday Night Murakumo: June 24th,1999 - Present,Youtube Debut: (Had a few showcase appearences,currently no official one.)
B.L.O.W (Ballistic.Loco.Opportunity.Wrestling) - Started as an independent promotion founded by Davie Richards (Destro). It was bought out by the EWF in 2005.
Friday Night B.L.O.W: Independent: June 3rd,1994 - 2005,EWF: 2005 - Present. Youtube Debut: September 27th,2014
Former Brand(s)
Tuesday Night Body Slam: EWF: May 14th,1996 - December 30th 2014, LWA: 2014 - Present Youtube Debut: September 23rd,2014
Status: Aired 1 Youtube episode with EWF and was soon after sold to a sister promotion called LWA (Lethal Wrestling Alliance).
Official Title Holders
EWF Champion - Bongo The Clown
Date Won: August 6th,2014 (3rd Reign)
Defeated: Carl Baker

EWF World Heavyweight Champion - Harry The Killer
Date Won: August 21st,2014 (4th Reign)
Defeated: Mason Storm
EWF International Champion - Blaster Blader
Date Won: May 9th,2014 (5th Reign)
Defeated: Sadistik

Japanese Champion - Dogsumi
Date Won: February 20th,2015 (1st Reign)
Defeated: Katsumi

EWF Blood Pain Champion (MU) - Pride Scatter (1st Reign)
Date Won: October 1st,2014
Defeated: Blood Pain
B.L.O.W Champion - Virgo
Date Won: 12-29-14
Defeated: Ren,K.O Boxx,& Blake Dynamite

EWF World Tag Team Champions - Damen Swift & Schroeder (Swift Force)
Date Won:3-22-15
Defeated: Jacob Cass (4th Reign) & Leon Strong (2nd Reign) (Degeneration X NG)

EWF Sakura's Division Champion -Tia Metal
Date Won:3-22-15
Defeated: Nanaya Kusanagi, Chills, & Jinx

EWF Sakura's Tag Team Champions - Sarah Lee and Violet Vandiver
Date Won: September 1st,2014
Defeated: Tia Metal & Lilith Hunter (The Femme Demis)
PPV Main Events
XFL Massacre
Twisted Metal
EWF Azure Grimoire
EWF Summerend
EWF Night Of Glory
EWF Clash Of The Clans
EWF Lord Of The Ring
EWF Cashout
EWF Crimson Rose
EWF Battle Royale

Light Within Hell - March Past: (2012:I,2013:II,2014:III) Coming Up: 2015: IV
Ad blocker interference detected!
Wikia is a free-to-use site that makes money from advertising. We have a modified experience for viewers using ad blockers

Wikia is not accessible if you've made further modifications. Remove the custom ad blocker rule(s) and the page will load as expected.