FNW & IWT would come to the agreement of doing a joint show after the FNW Interactive switch over to the WEDF Forums. This would be the first joint show in the history of FNW Interactive and would be the first time another CAW show has done a joint show with FNW since FNW Fella's Revenge. This would be the second CPV of the Season One of IWT after IWT One Night Stand.
It's Walleh Time would vacate all the championships other then the IWT World Heavyweight Championship for this event. Though IWT Management would later award Smokey the IWT Japanese Championship to make the main event a double title match. The NSCW African Championship was also vacated and was used due its merger with IWT.
This event would win "Best CAW Show of the Year" (2013) in the Something CAWful CAW Awards.
Instant Rumble Results
Royal Rumble Entrances and Eliminations:
Footnotes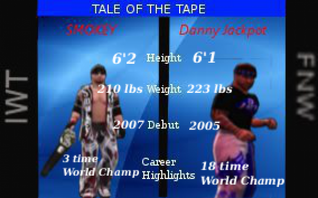 The NSCW African Championship was also vacated and was used for the event due to its merger with IWT.
Danny Jackpot also competes for IWT, Though he will only be representing FNW during this event due to him being the World Champion. Wade Barrett & Walleh also competes for FNW, Though Barrett will only be representing IWT during this event due to him portraying his IWT Gimmick of Stone Cold Wade Barrett, Walleh choosed to represent the brand he owns.
Two Superstar is representing both brands, Biff Andreas & Kenzo Suzuki, Who are ironically facing each other. One Team was thrown together to represent a unity between FNW and IWT for this event, Walleh & Derek The V Extreme.
Ad blocker interference detected!
Wikia is a free-to-use site that makes money from advertising. We have a modified experience for viewers using ad blockers

Wikia is not accessible if you've made further modifications. Remove the custom ad blocker rule(s) and the page will load as expected.