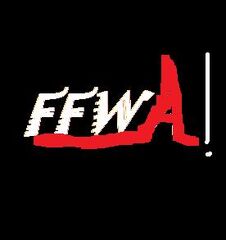 La FFWA! est une ecole de catch Allemande mais aussi une federation. Pour etre definitivement un rooster de FFWA! il faut etre au grade ruban d'or.
Le president est Charle Birbaum conduit sa federation comme profesionel leur show ne passe pas a la téle mais il iront sur Youtub d'ici fin Mars. Depuis 2008 la FFWA! est avec la NWA. voici quelque faite que la FFWA! a fait en 2004 creation de la FFWA! en fin 2004 la FFWA! devient une ecole de catch, en 2008 la FFWA! s'allient avec la NWA et deviendrat plus tard la FFWA!-NWA German et en 2006 elle aurat gagner 50 000 000 $ au loto.En fin 2004 Charle Birbaum a voulut metre son propre Wrestlemania et il trouvat le nom de SuperMania. Le 7 Decembre la premier edition de SuperMania, le show aurat durée 2 heures mais avec un maint event de titan. les champion par equipe de la NOAH etait les invitait mais aussi Réné Dupré,Cm Punk qui faisait ses debut et la diva Stecy Kilber. Le show a fait un enorme sucsée dont 1500 spectateurs sur les 1620, 41 049 $ de gagnée et ces a partir de la que la FFWA! est devenue connue. Le maint Event etait CM Punk et Réné Dupré contre Takeshi Morishima et Mohammed Yone un match de 23 minutes. Le match etait violent et spectaculair car l'equipe Takeshi Morishima et Mohammed Yone ont fait les plus grande action du match. En janvier 2006 sur FFWA!.com le DVD est a vendre et 40 000 exemplaire auront été vendue en 12 jours. Et SuperMania continuer le II,III,IV, et en 2009 le V aurat etait le plus grand de l'histoir des SuperMania car le maint event etait Russian Gladiator contre Vampirado dans un Stell Cage Match. Mais si vous vouler voir les episode de la FFWA! allait sur FFWA!.com.
Rooster
Man
Americain Dragon
Johny Blaze
Henderash
Chris Crowz
Ultimate Spride
Vampirado "The Dark Side"
Jonatha Guerrero
Russian Gladiator
SuperRado
Orlando Billy
Shizou
Jungle King
Victor Salimenenmo
Mini Kennedy
Diva
Clara Kenelia
Shadow
Sindy Johnson
Leyla
Titre
FFWA World Haveiweght Champion: Russian Gladiator
FFWA Cruseweight Champion: Jonatha Guerrero
FFWA Tag Team Champion: Orlando Billy & Shizou
FFWA Diva Champion: Shadow
Show 2009
28 fevrier: Army 4
7 Mars: nom a venir
4 Avril: nom a venir
16 Mai: nom a venir
19 Juin: championnat inter federation 1er jour
20 Juin: championnat inter federation 2e jour
27 Juin: championnat inter federation 3e jour
28 Juin: championnat inter federation dernier jour
13 Juillet: Impact Tsunami
26 Septembre: Gennesi the days Massacre 2
10 Octobre: Bretz 3
21 Novembre: Télevisie
19 Septembre: FFWA! SuperMania V
Ad blocker interference detected!
Wikia is a free-to-use site that makes money from advertising. We have a modified experience for viewers using ad blockers

Wikia is not accessible if you've made further modifications. Remove the custom ad blocker rule(s) and the page will load as expected.