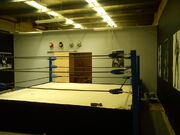 Foghorn Sanders Skewl Of Har Core is a respectable CAW training facility ran by the icon Foghorn Sanders. It is the breeding grounds for some of CAWs finest talent
Graduates
Rejected Talent
Andy Foghorn : Foghorn Sanders didn't see the "It" factor in him.
Danny Foghorn: Rejected for being a crybaby. 
The Entire WCDW roster
Trivia
The school building  was originally a home for a local drug cartel. After a few months of inactivity and the building being empty the great Sanders himself declared the building his and after a few improvements (A ring and a few posters.) the school was made.
Ad blocker interference detected!
Wikia is a free-to-use site that makes money from advertising. We have a modified experience for viewers using ad blockers

Wikia is not accessible if you've made further modifications. Remove the custom ad blocker rule(s) and the page will load as expected.