Gaz Tower is a Superstar in TNE. 
Gaz Tower
Statistics
Names
Gaz Tower
Height
Who cares
Weight
Who cares
Born
Who cares
Birthplace
Who cares
Died
November 6,2012
Who cares
Resides
Who cares
Billed from
Who cares
Trained by
Who cares
Debut
Who cares
Retired
November 6,2012
Total Non-Stop Entertainment
Gaz Tower competed in 3 Dark Matches. He lost to Cody Meyers and lost a Tag Team match against the Coolest Kids in School teaming with Tyson. He went on to Beat CJ in a #1 Contenders match. On episode 1 Tower was unsuccessful against Monzer Mazaydeh for the TNE World Heavyweight Championship. Gaz was however granted another match at TNE Doomsday but was unsuccessful in what was one of the greatest matches in the history of CAW. In episode 3 Tower defeated Kid Punk. In episode 4 Tower lost in a #1 Contenders termoil match. The next week Gaz teamed up with Tyson and Devon Aarons defeating CJ, Cody Meyers and Kid Punk. At TNE Bash Tower defeated xXx in a #1 Contenders match and recived a low blow at the end of the match. In episode 8 of RAW Tower and xXx met again in a hell in a cell where Tower won. In the episode 9 Gauntlet Tower defeated Cody Meyers and Dos Santos but was unsuccessful against Dude. In episode 10 Gaz competed in a battle royal but lost. In episode 11 Lewis Parks & Gaz Tower lost ot The Luchadore Twins. In episode 13 RAW Tower lost a TNE King of the Ring qualflier to xXx. On episode 15 Tower teamed with Devon Aarons in a winning effort against the Luchadore Twins. the rematch happened episode 17 and the team won again and this time is was for a title shot at TNE Wrestlemania.
Season 2
At TNE Wrestlemania Devon Aarons & Gaz Tower will face Team One for the TNE Tag Team Championship.
Death
On November 6, 2012 Gaz Tower died. The cause of his death is unknown, as the police never cared to investigate his death. However, Gaz Tower was actually murdered by Bastion, along with several other members of the TNE roster.
In Wrestling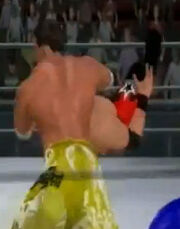 Finishing Moves
:
Signature Moves:
Wrestling Hero Slam
Top Rope Cutter
Wrestlers Managed:
Championships and accomplishments
Total Non-Stop Entertainment
World CAW Developmental Wrestling
Ad blocker interference detected!
Wikia is a free-to-use site that makes money from advertising. We have a modified experience for viewers using ad blockers

Wikia is not accessible if you've made further modifications. Remove the custom ad blocker rule(s) and the page will load as expected.