Giant Guppy
Statistics
Names
N/A
Height
6'2
Weight
230 lbs
Born
 ???
Birthplace
Unknown
Died
N/A
N/A
Resides
Unknown
Billed from
Trained by
Jeff Jarrett
Debut
2008
Retired
N/A
Giant Guppy is a pretty cool guy. He is the first ever Jeff Jarrett Pro Wrestling INTERNASHNEL Champion, and held it while maintaining an undefeated streak until suffering his first loss to Hannah Layla.
Finishers
Titles & Accomplishments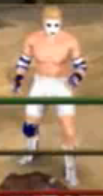 Ad blocker interference detected!
Wikia is a free-to-use site that makes money from advertising. We have a modified experience for viewers using ad blockers

Wikia is not accessible if you've made further modifications. Remove the custom ad blocker rule(s) and the page will load as expected.