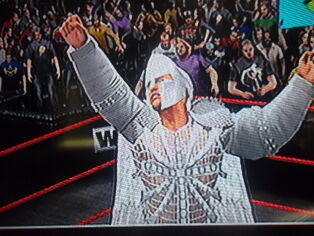 ' I was sent here do destroy the evil monsters of this place, and i will.'
Guardian
Guardian or Heavens Guardian as the fans call him, is a man who came to the RCW only to get rid of the evil creatures that wrestled there. Most commonly, Nightmare, the beast and the devils demon. 
Guardion, like all Rejects, started out as a loser. He lost his first 5 matches. But was able to defeat Christain, 2 times in a row. He later participated in the 16 man tag match to determain if the RCW belonged to the Rejects or the WWE. He was the third reject to be defeated.
Three months later he would later become the rejected champion. Defeating Nightmare, Oreo, and Stickman in a fatal fourway match. He then held the title for 9 weeks before losing it to Jeff the killer in a steel cage match. But was able to defeat jeff for the title a week later. He would then hold it for 4 more weeks until, injury forced him to forfit the title. 
He would then return 3 months later, defeating nightmare to earn a championship match against Youngblood, but was defeated. 
Two weeks later he chalenged Youngblood for the title, and won the title by K.O. But lost the title 3 minites later, by a cash in from the beast.
He is a 3 time Rejected champion.
Rivals
His rivalrys consist if evil creatures, and black magic weilders. Including.
Nightmare                                                                                
The beast
The devils demon
Kane ( who was taking time off)
Ashton T. Mister. 
Signatures-Finishers
Signature 1, Sit out chokeslam
Signature 2, Scoopslam and Elbowdrop
Finisher 1, Suplex neckbreaker
Finisher 2, Diving brainchop.
Stats 
Height, 6.7
Weight, 261 pounds
Age, ???
Birthplace, ???
Entrance themes, Gold-lust( Goldust)
Championships, 3 time rejected championship.
Status, Alive and well. Member of the RCW/ Rejected championship wrestling. Article updating as show continues.
Ad blocker interference detected!
Wikia is a free-to-use site that makes money from advertising. We have a modified experience for viewers using ad blockers

Wikia is not accessible if you've made further modifications. Remove the custom ad blocker rule(s) and the page will load as expected.