Hannah Layla
Statistics
Names
N/A
Height
5'11
Weight
195 lbs
Born
 ???
Birthplace
Unknown
Died
N/A
N/A
Resides
Unknown
Billed from
Trained by
Dean Malenko
Debut
2008
Retired
N/A
Hannah Layla is the top heel in Jeff Jarrett Pro Wrestling. He achieved this status by defeating the loved Giant Guppy and capturing his INTERNASHNEL Champion.
Finishers
Titles & Accomplishments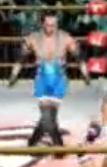 Ad blocker interference detected!
Wikia is a free-to-use site that makes money from advertising. We have a modified experience for viewers using ad blockers

Wikia is not accessible if you've made further modifications. Remove the custom ad blocker rule(s) and the page will load as expected.