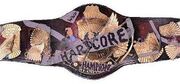 The
Hardcore Championship
is a retired title once featured in the real-life WWE, but has been used in verious CAW feds. Always defended in No Holds Barred matches, Hardcore Titles sometimes feature "24/7 rules", meaning matches can occur at any time or place.
List of titles that bear the name:
Ad blocker interference detected!
Wikia is a free-to-use site that makes money from advertising. We have a modified experience for viewers using ad blockers

Wikia is not accessible if you've made further modifications. Remove the custom ad blocker rule(s) and the page will load as expected.