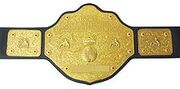 ICCW Undisputed World Championship
Captain Planet
Abyss - defeated Captain Planet in a Buried Alive match at ICCW End Of Days.
Criss Angel - defeated Captain Murphy inside Hell in a Cell at ICCW In Yo Crib to become undisputed champion.
Harry Potter - defeated Criss Angel, David Blaine, Chris Parks, The Ultimate Warrior and Bizzaro Murphy in an Elimination Chamber match at ICCW Priceless Punishment.
Captain Murphy - defeated Potter in a 3 Stages of hell match at ICCW ZOMG-A-Mania.
Zombie Shrek - defeated Murphy at ICCW Matinee Massacre.
Ad blocker interference detected!
Wikia is a free-to-use site that makes money from advertising. We have a modified experience for viewers using ad blockers

Wikia is not accessible if you've made further modifications. Remove the custom ad blocker rule(s) and the page will load as expected.