ITF Ironman Cup
Details
Current champion(s)
Antonio Rodreigo
Date Won
Jun 4, 2015
League
New-NAW/AWP Independent Training Facility
Brand
Introduced
2014
Retired
November 29th, 2015
Most reigns
Kid Jack (1), Cleatus Tumbleweed (1), Antonio Rodreigo (1)
First Champion
Kid Jack
Last Champion
Antonio Rodreigo
Longest Reign
Antonio Rodreigo
Shortest Reign
Kid Jack
Heaviest Champion
Cleatus Tumbleweed
Lightest Champion
Kid Jack
Other Name(s)
Past design(s)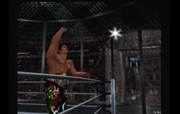 The ITF Ironman Cup was created by the New-NAW/APW Independent Training Facility to be used for their training superstars. On November 2015, the Ironman Cup was retired in favor of the ITF World Heavyweight Championship being the brand's sole prize. The final holder of the cup was Antonio Rodreigo. The Ironman Cup had one of the most interesting rules in CAW history. The rules vary depending on the match sake. The rules were as following.
The Cup can only be defended and won in multiple man matches that are elimination.

Battle Royals, Gauntlets, Scramble, Time Limit Brawls, ect.
Exception to this rule is a Singles Ironman Match which is acceptable.

The Cup can have specific rules in any match.

No pinfalls, No Submissions, Only Pinfalls, Only Submission, ect.

The Cup's holder must always be in the next match defending.
CAW's not training at the New-NAW/AWP Independent Training Facility can compete for the Cup also.
Only Original CAW's who are only signed to developmental leagues can compete for the cup.
ITF Ironman Cup Match History
|}