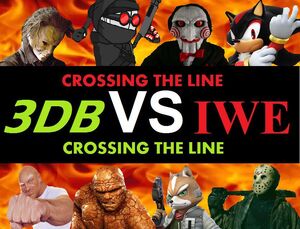 IWE VS 3DB Crossing the Line is a joint show between 3DB and IWE and all the matches will have members of each show competing against each other
Background
The flames of war started after the main event of the 3DB event Submerged when IWE wrestler Mr.Clean was named number 1 contender for the 3DB world title at 3DB NEVER ALONE. At the Rush Hour after Submerged Mr.Clean beat Hank Wimbleton after calling 3DB a second rate show then after the match Clean was attacked by 3DB orginals Red Team, Hank, and Jesus then a challenge was made by IWE for a 6 man Tables match at Quest For Gold. At Quest for gold the Mario bros. and Clean were going to face Myers and Red Team but Clean and Donut were taken out when Clean attacked and injured Donut. The match was changed to a tag match with the Hardcore Title on the line where Sarge got the pin. Going up the Malfunction 3DB wrestler Wario be Thing for the IWE world title and Clean won the 3DB Title at Never Alone. At Malunction Clean defended his Title agains Waluigi and then was attacked by the returning Donut while Wario beat Thing to retain the IWE title.
Match Card
Knuckles vs Silver
Money in the Bank
Master Chief vs Joker vs Racerman vs Slayer
Survival Tag
IWE Champions( Leaf Ninja, Link, Fox, and Ironman) vs 3DB Champions(Gears of war, Jigsaw, Hank Wimbleton, and Scorpion)
IWE Heavyweight Title match
Rocky Balboa(c) vs Waluigi
Numbers Advantage In Chamber match
Wario vs Mr.clean
Winner Take all chamber match
Team IWE (Thing, Mr.Clean, and Luigi) VS team 3DB( Shadow, Jesus, Wario)
Ad blocker interference detected!
Wikia is a free-to-use site that makes money from advertising. We have a modified experience for viewers using ad blockers

Wikia is not accessible if you've made further modifications. Remove the custom ad blocker rule(s) and the page will load as expected.