IWT Ironman Heavymetalweight Championship
Details
Current champion(s)
Doink the Clown
Date Won
June 11th, 2012
League
IWT, Vivanverse Leagues
Brand
Xtra
Introduced
July 13, 2010
Retired
Most reigns
Matt Eichorn (28 reigns)
First Champion
Matt Eichorn
Last Champion
Longest Reign
Evan O'Shea (195 Days)
Shortest Reign
Haduken (0.1 seconds)
Heaviest Champion
Lightest Champion
Other Name(s)
IWT IHMW Title
IWT Hardcore Title
IWT IMHW Title
Past design(s)
This is the Hardcore Wrestling Championship defended in IWT under Hardcore Rules can also be shortened to IHMW Championship. The Title is defended under the 24/7 rules meaning that as long as a referee is present a title may change hands. It is largely treated as a 'joke' championship with the title changing hands rapidly in IWT Rumble Matches. In accordance with IWT ruling anyone or anything can be champion thus even inanimate objects could possibly be champion. During IWT Rumbles a three count is instantly counted and is counted as an elimination just due to time constraints.
On March 19, 2011 -- the day that IWT closed down -- the IWT Chairman, Suspect, relinquished control of the IWT Ironman Heavymetalweight Championship to Oshujax. Since then, multiple title changes have occured and are in the process of being updated. Oshujax occasionally holds title defenses on his Justin.tv stream, and only has one rule in effect in terms of Royal Rumbles: If the Champion is not present in the first 4 or 6 men who have entered and/or an elimination has not occured, the title will be immediately vacated as to keep things moving.
On April 11, 2011, IWT Chairman Suspect agreed to share the IWT IMHW with Oshujax as a sign of the continual strong friendship. The title also was defended on Evan O'Shea streams as the popularity of this title grew, and continued to be a featured in Vivianverse based shows such as FNW & IWT Make A Statement.
As of June 12th, 2012 this title has changed hands a staggering 477 times between 184 diffrent wrestlers.
Title History
Wrestler:
Times
Date Won
Days Held
Matt Eichorn
1
July 13, 2010
2
Brock Lesnar
1
July 15 2010
0 (1 min 58 seconds)
Danny Jackpot
1
July 15 2010
0 ( 22 seconds)
Smokey
1
July 15 2010
0 ( 57 seconds)
Danny Jackpot
2
July 15 2010
0 ( 26 seconds)
Brock Lesnar
2
July 15 2010
0 (1 min 19 seconds)
Matt Eichorn
2
July 15 2010
0 ( 33 seconds)
Smokey
2
July 15 2010
0 ( 52 second)
The Hurricane
1
July 15 2010
0 (1 min 8 seconds)
Habinero
1
July 15 2010
0 ( 2 min 31 seconds)
Cowlex
1
July 15 2010
0 ( 2 Hours)
Danny Jackpot
3
July 15 2010
0 (1 min 49 seconds)
Cowlex
2
July 15 2010
0 ( 51 seconds)
Javori
1
July 15 2010
0 ( 57 seconds)
Matt Eichorn
3
July 15 2010
0 (1 min 35 seconds)
Danny Jackpot
4
July 15 2010
38
The Rock
1
August 22 2010
0 (45 seconds)
Matt Eichorn
4
August 22 2010
0 (39 seconds)
The Rock
2
August 22 2010
26
Jon
1
September 17 2010
0 (1 min 28 seconds)
Zach Starr
1
September 17 2010
0 (57 seconds)
Super Jawann
1
September 17 2010
0 (40 seconds)
Zach Starr
2
September 17 2010
0 (1 min)
Javori
2
September 17 2010
0 ( 1 min 45 seconds)
Dylan Connell
1
September 17 2010
0 (50 seconds)
Matt Eichorn
5
September 17 2010
0( 3 seconds)
Suspect
1
September 17 2010
0 (30 seconds)
Matt Eichorn
6
September 17 2010
0 (47 seconds)
Jeff Winninger
1
September 17 2010
0 (25 seconds)
Arthur "Bone Crusher" Johnson
1
September 17 2010
0 (31 seconds)
Danny Jackpot
5
September 17 2010
0 (30 seconds)
The Crippler
1
September 17 2010
0 (1 min 8 seconds)
Arthur "Bone Crusher" Johnson
2
September 17 2010
0 (28 seconds)
Takeshi Morishima
1
September 17 2010
0 (35 seconds)
Bryan Deas
1
September 17 2010
0 (1 min 3 seconds)
Pat Patterson
1
September 17 2010
0 (28 seconds)
The Rock
3
September 17 2010
7
Rhino
1
September 24 2010
0 (23 seconds)
Jason Matthews
1
September 24 2010
0 (15 seconds)
Steven Spriter
1
September 24 2010
0 (20 mins)
Eddie Guerrero
1
September 24 2010
0 (15 seconds)
Muhammed Hassan
1
September 24 2010
0 (30 seconds)
Torrie Wilson
1
September 24 2010
0 (5 seconds)
TY.
1
September 24 2010
0 (10 seconds)
Panda
1
September 24 2010
0 (11 seconds)
Jason Matthews
2
September 24 2010
0 (34 seconds)
Christian
1
September 24 2010
0 (17 seconds)
AJ Styles
1
September 24 2010
36
Sting
1
October 30 2010
0 (1 min 20 seconds)
Rhino
2
October 30 2010
47
Chase Burger
1
December 15 2010
0 (5 mins)
Oshujax
1
December 15 2010
0 (55 secs)
Tazz
1
December 15 2010
0 (2 mins)
Chase Burger
2
December 15 2010
0 (1 min)
Tazz
2
December 15 2010
1
CM Punk
1
December 16 2010
0 (3 mins)
Matt Eichorn
7
December 16 2010
0 (5 mins)
Coca Cola Can
1
December 16 2010
0 (2 mins)
Shawn Dynasty
1
December 16 2010
0 (3 mins)
Ho
1
December 16 2010
0 (11 mins)
Chyna
1
December 16 2010
0 (2 mins)
Linda MacMahon
1
December 16 2010
0 (4 mins)
Chyna
2
December 16 2010
14
Matt Eichorn
8
December 29 2010
0
TY.
2
December 29 2010
0
AKIWOMAN
1
December 29 2010
0
Chyna
3
December 29 2010
0
Caylen Rogers
1
December 29 2010
0
TY.
3
December 29 2010
0
AKIWOMAN
2
December 29 2010
1
Steven Spriter
2
December 30 2010
0
Suspect
2
December 30 2010
0
Devil Goat
1
December 30 2010
0
Sultan Shetty
1
December 30 2010
0
Oshujax
2
December 30 2010
0
Javori Smart
3
December 30 2010
0
Oshujax
3
December 30 2010
0
TY.
4
December 30 2010
0
Damar Helms
1
December 30 2010
0
The Rock
4
December 30 2010
0
Ho
2
December 30 2010
7
Damar Helms
2
January 5 2011
0
Evan O'Shea
1
January 5 2011
0
Danny Jackpot
6
January 5 2011
0
Coca Cola Can
2
January 5 2011
0
Caylen Rogers
2
January 5 2011
0
Coca Cola Can
3
January 5 2011
0
Oshujax
4
January 5 2011
0
Coca Cola Can
4
January 5 2011
0
TY.
5
January 5 2011
0
Javori Smart
4
January 5 2011
0
Sultan Shetty
2
January 5 2011
0
Javori Smart
5
January 5 2011
0
Suspect
3
January 5 2011
0
Matt Eichorn
9
January 5 2011
0
Ho
3
January 5 2011
0
Yuna
1
January 5 2011
0
Suspect
4
January 5 2011
0
Shane McMahon
1
January 5 2011
0
Big Boss Man
1
January 5 2011
0
Perry Saturn
1
January 5 2011
0
The Godfather
1
January 5 2011
0
Perry Saturn
2
January 5 2011
0
Al Snow
1
January 5 2011
0
Test
1
January 5 2011
0
The Godfather
2
January 5 2011
0
Chyna
4
January 5 2011
0
Tazz
3
January 5 2011
0
Shawn Dynasty
2
January 5 2011
0
X-Pac
1
January 5 2011
0
Shawn Dynasty
3
January 5 2011
0
Devil Goat
2
January 5 2011
0
Shawn Dynasty
4
January 5 2011
0
The Rock
5
January 5 2011
1
Matt Eichorn
10
January 6 2011
0
Devil Goat
3
January 6 2011
0
Tazz
4
January 6 2011
0
Matt Eichorn
11
January 6 2011
0
Tazz
5
January 6 2011
0
Vince MacMahon
1
January 6 2011
0
Evan O'Shea
2
January 6 2010
12
Danny Jackpot
7
January 18 2011
0 (20 mins)
Dean Malenko
1
January 18 2011
0
Blake
1
January 18 2011
0
Danny Jackpot
8
January 18 2011
0
Blake
2
January 18 2011
0
Ho
4
January 18 2011
0
Blake
3
January 18 2011
0
Caylen Rogers
3
January 18 2011
0
Blake
4
January 18 2011
0
Caylen Rogers
4
January 18 2011
12
Evan O'Shea
3
Febuary 2 2011
0
Meat Staisak
1
Febuary 2 2011
1
Caylen Rogers
5
Febuary 3 2011
6
Devil Goat
4
Febuary 9 2011
0
Evan O'Shea
4
Febuary 9 2011
0
Dorf Liggleton
1
Febuary 9 2011
0
Stone Cold Wade Barrett
1
Febuary 9 2011
0
Evan O'Shea
5
Febuary 9 2011
0
Oshujax
5
Febuary 9 2011
0
Dorf Liggleton
2
Febuary 9 2011
0
Matt Eichorn
12
Febuary 9 2011
0
Dorf Liggleton
3
Febuary 9 2011
6
Matt Eichorn
13
Febuary 15 2011
0
Caylen Rogers
6
Febuary 15 2011
0
Danny Jackpot
9
Febuary 15 2011
0
Caylen Rogers
7
Febuary 15 2011
0
Dark Magician
1
Febuary 15 2011
0
Linda McMahon
2
Febuary 15 2011
0
Steven Spriter
3
Febuary 15 2011
0
Linda McMahon
3
Febuary 15 2011
0
Jeff Hardy
1
Febuary 15 2011
0
Chase Burger
3
Febuary 15 2011
0
Blake
5
Febuary 15 2011
3
Evan O'Shea
6
Febuary 18 2011
0
Blake
7
Febuary 18 2011
0
Caylen Rogers
8
Febuary 18 2011
0
Matt Eichorn
14
Febuary 18 2011
0
Blake
8
Febuary 18 2011
0
AKIWOMAN
3
Febuary 18 2011
0
Blake
9
Febuary 18 2011
17
Matt Eichorn
15
March 7 2011
0
Blake
10
March 7 2011
0
Slutista
1
March 7 2011
0
Jericho 222
1
March 7 2011
0
Danny Jackpot
10
March 7 2011
0
Jericho 222
2
March 7 2011
0
Title given to Oshujax
Kevin Federline
1
March 19 2011
0
"Heart Break Knucklehead" Big Show
1
March 19 2011
0
Mr. Anderson
1
March 19 2011
0
Title vacated due to Mr. Anderson getting injured (BIG SURPRISE)
Gold Ranger
1
March 19 2011
0
Green Ranger
1
March 19 2011
0
Oshujax
6
March 19 2011
0
Wu Tang Man
1
March 19 2011
0
XtremeTony
1
March 19 2011
0
Wu Tang Man
2
March 19 2011
0
Oshujax
7
March 19 2011
0
Chris Jericho
1
March 19 2011
0
CM Punk
2
March 19 2011
0
"Dashing" Cody Rhodes
1
March 19 2011
0
Jurt Angle
1
March 19 2011
0
CM Punk
3
March 19 2011
0
Caylen Rogers
9
March 19 2011
0
Steven Spriter
4
March 19 2011
0
Scott Steiner
1
March 19 2011
0
Suspect
5
March 19 2011
0
Dave Morrison
1
March 19 2011
0
Zaquiri Daquiri (ICCW Owner)
1
March 19 2011
0
Danny Jackpot
11
March 19 2011
0
Matt Eichorn
16
March 19 2011
0
Dave Morrison
2
March 19 2011
0
Matt Eichorn
17
March 19 2011
0
Green
1
March 19 2011
0
The Brian Kendrick
1
March 19 2011
0
Matt Eichorn
18
March 19 2011
0
Samoa Joe
1
March 19 2011
0
Shelton Benjamin
1
March 19 2011
0
The Undertaker
1
March 19 2011
0
Vince McMahon
1
March 19 2011
0
La Parka Johnny
1
March 19 2011
0
Matt Eichorn
19
March 19 2011
0
Title vacated, Royal Rumble (Oshujax Rule)
Shelton Benjamin
2
March 19 2011
0
Mark Henry
1
March 19 2011
0
THE MEGAZORD
1
March 19 2011
0
Suspect
6
March 19 2011
0
Matt Eichorn
20
March 19 2011
0
Zaquiri Daquiri
2
March 19 2011
0
Matt Eichorn
21
March 19 2011
0
MVP
1
March 19 2011
0
Matt Eichorn
22
March 19 2011
0
The Rock
6
March 19 2011
0
Shad Gaspard
1
March 19 2011
0
Daniel Bryan
1
March 19 2011
0
The Rock
7
March 19 2011
0
"Dashing" Lord Zedd
1
March 19 2011
0
The Great Khali
1
March 19 2011
0
JTG
1
March 19 2011
0
Mike Knox's Beard
1
March 19 2011
0
The Great Khali
2
March 19 2011
0
Danny Jackpot
12
March 19 2011
2
JBL
1
March 21 2011
0
R-Truth
1
March 21 2011
0
Kurt Angle
1
March 21 2011
0
R-Truth
2
March 21 2011
0
JBL
2
March 21 2011
0
Ric Flair
1
March 21 2011
0
Rene Dupree
1
March 21 2011
0
"Mr. Perfect" Gene Snitsky
1
March 21 2011
0
Heidenreich
1
March 21 2011
0
Ric Flair
2
March 21 2011
0
Heidenreich
2
March 21 2011
0
Booker T
1
March 21 2011
0
"Mr. Perfect" Gene Snitsky
2
March 21 2011
0
Carlito
1
March 21 2011
0
Shelton Benjamin
3
March 21 2011
0
Stevie Richards
1
March 21 2011
0
Shelton Benjamin
4
March 21 2011
0
Orlando Jordan
1
March 21 2011
0
Shelton Benjamin
5
March 21 2011
0
Rob Conway
1
March 21 2011
0
Charlie Haas
1
March 21 2011
0
Shelton Benjamin
6
March 21 2011
0
Sylvain Grenier
1
March 21 2011
0
The Hurricane
2
March 21 2011
0
Batista
1
March 21 2011
0
Chris Jericho
2
March 21 2011
0
The Hurricane
3
March 21 2011
0
Sylvain Grenier
2
March 21 2011
0
The Hurricane
4
March 21 2011
0
Danny Basham
1
March 21 2011
0
Big Show
2
March 21 2011
1
Charlie Haas
2
March 22 2011
0
Big Show
3
March 19 2011
3
Edge
1
March 22 2011
0
Big Show
4
March 22 2011
0
Eugene
1
March 22 2011
0
Edge
2
March 22 2011
0
Stevie Richards
1
March 22 2011
0
Spike Dudley
1
March 22 2011
0
Heidenreich
3
March 22 2011
0
Spike Dudley
2
March 22 2011
0
Heidenreich
4
March 22 2011
0
TITLE VACATED, ROYAL RUMBLE
Chris Benoit
1
March 22 2011
0
Booker T
2
March 22 2011
0
Rob Van Dam
1
March 22 2011
0
"Heart Break Knucklehead" Big Show
5
March 22 2011
0
Booker T
3
March 22 2011
0
Christian
1
March 22 2011
0
"Heart Break Knucklehead" Big Show
6
March 22 2011
0
Carlito
2
March 22 2011
0
Chris Jericho
3
March 22 2011
0
Stevie Richards
2
March 22 2011
0
Hulk Hogan
1
March 22 2011
0
"Heart Break Knucklehead" Big Show
7
March 22 2011
0
Stevie Richards
3
March 22 2011
0
Doug Basham
1
March 22 2011
0
Heidenreich
5
March 22 2011
0
Chavo Guerrero
1
March 22 2011
4
"Mr. Perfect" Gene Snitsky
3
March 26 2011
0
Heidenreich
6
March 26 2011
0
John Cena
1
March 26 2011
0
Kurt Angle
2
March 26 2011
0
John Cena
2
March 26 2011
0
VACATED, ROYAL RUMBLE
Bret Hart
1
March 26 2011
0
Ric Flair
3
March 26 2011
0
Brother Huggington
1
March 26 2011
0
Ric Flair
4
March 26 2011
0
Brother Huggington
2
March 26 2011
0
Venom
1
March 26 2011
0
Ric Flair
5
March 26 2011
0
Triple H
1
March 26 2011
0
Megaman
1
March 26 2011
0
Ashtray
1
March 26 2011
0
French Fry
1
March 26 2011
0
Chavo Guerrero
2
March 26 2011
0
"Mr. Perfect" Gene Snitsky
4
March 26 2011
0
French Fry
2
March 26 2011
0
Commissioner Bowers
1
March 26 2011
0
"Mr. Perfect" Gene Snitsky
5
March 26 2011
0
JTG
2
March 26 2011
0
Charlie Haas
3
March 26 2011
0
CM Punk
4
March 26 2011
0
King Mabel
1
March 26 2011
0
JTG
3
March 26 2011
0
Shad Gaspard
2
March 26 2011
0
Bob Holly
1
March 26 2011
0
Zack Ryder
1
March 26 2011
0
Jimmy Wang Yang
1
March 26 2011
0
Carlito
3
March 26 2011
0
John Cena
3
March 26 2011
3
Ric Flair
5
March 29 2011
0
John Cena
4
March 29 2011
0
Jimmy Wang Yang
2
March 29 2011
0
John Cena
5
March 29 2011
0
Michelle McCool
1
March 29 2011
0
Ric Flair
6
March 29 2011
0
Carlito
4
March 29 2011
0
Raymond Sterio
1
March 29 2011
0
Jillberg
1
March 29 2011
0
Maria
1
March 29 2011
0
Jillberg
2
March 29 2011
0
Maria
2
March 29 2011
0
Jimmy Wang Yang
3
March 29 2011
0
JTG
4
March 29 2011
0
Shawn Michaels
1
March 29 2011
0
Super Crazy
1
March 29 2011
0
Candice Michelle
1
March 29 2011
0
Jimmy Wang Yang
4
March 29 2011
0
Boogeyman
1
March 29 2011
0
Ric Flair
6
March 29 2011
0
Chris Jericho
4
March 29 2011
1
Lord Steven Regal
1
March 30 2011
0
Charlie Haas
4
March 30 2011
0
Ric Flair
7
March 30 2011
0
Zack Ryder
2
March 30 2011
0
Mark Henry
2
March 30 2011
0
Beth Phoenix
1
March 30 2011
0
Shad
3
March 30 2011
0
Zack Ryder
3
March 30 2011
0
Mark Henry
3
March 30 2011
0
Beth Phoenix
2
March 30 2011
0
Shad
4
March 30 2011
1
Mark Henry
4
March 31 2011
0
Zack Ryder
4
March 31 2011
0
Charlie Haas
5
March 31 2011
0
VACATED, ROYAL RUMBLE
MVP
2
March 31 2011
0
Cody Rhodes
2
March 31 2011
0
JBL
3
March 31 2011
0
Cody Rhodes
3
March 31 2011
0
"Mr. Perfect" Gene Snitsky
6
March 31 2011
0
Ric Flair
8
March 31 2011
0
Evan Bourne
1
March 31 2011
0
Kane
1
March 31 2011
0
The Miz
1
March 31 2011
0
"Outlaw" Jethro Holliday
1
March 31 2011
0
Edge
3
March 31 2011
0
Super Crazy
1
March 31 2011
0
Edge
4
March 31 2011
0
Bob Holly
2
March 31 2011
0
Shelton Benjamin
7
March 31 2011
0
Ted DiBiase Jr.
1
March 31 2011
0
Shawn Michaels
2
March 31 2011
0
Matt Hardy
1
March 31 2011
0
Big Show
8
March 31 2011
0
Matt Eichorn
23
March 31 2011
0
Devil Goat
5
March 31 2011
0
Matt Eichorn
24
March 31 2011
0
Devil Goat
6
March 31 2011
0
Suspect
7
March 31 2011
0
AkiWoman
4
March 31 2011
0
Republican Ho
5
March 31 2011
0
Akiwoman
5
March 31 2011
0
Danny Jackpot
13
March 31 2011
0
Republican Ho
6
March 31 2011
0
Jeff Hardy
2
March 31 2011
0
Republican Ho
7
March 31 2011
0
Kenzo Suzuki
1
March 31 2011
13
Matt Eichorn
25
April 13 2011
0
Johnny
1
April 13 2011
0
Devil Goat
7
April 13 2011
0
Danny Jackpot
14
April 13 2011
0
Edge
5
April 13 2011
0
Danny Jackpot
15
April 13 2011
0
Edge
6
April 13 2011
0
Matt Eichorn
26
April 13 2011
0
Edge
7
April 13 2011
0
Javori
3
April 13 2011
0
Edge
8
April 13 2011
0
Blake
11
April 13 2011
7
TY.
6
April 20 2011
0
Javori Smart
6
April 20 2011
0
Jesus Habinero
2
April 20 2011
0
Oshujax
8
April 20 2011
0
Fred Durst
1
April 20 2011
0
The Man They Call Steve
1
April 20 2011
0
FJFJFJFJFJFJFJFJFJFJFJFJFJ
1
April 20 2011
0
Ray
1
April 20 2011
0
Matt Eichorn
27
April 20 2011
10
Lex Luger
1
April 30 2011
0
Michael Cole
1
April 30 2011
0
DH Smith
1
April 30 2011
0
N Darkness
1
April 30 2011
0
"Supermex" Jose Hernandez
1
April 30 2011
20
CM Punk
5
May 20 2011
0
Blake
12
May 20 2011
0
Jesus Habinero
3
May 20 2011
0
Devil Goat
8
May 20 2011
0
Project Devil Iconic (9 & 9)
1
May 20 2011
0
Sin Cara
1
May 20 2011
0
Chyna
5
May 20 2011
0
Oshujax
10
May 20 2011
0
Chyna
6
May 20 2011
18
Hardcore Holly
3
June 7 2011
0
Sin Cara
1
June 7 2011
0
Haduken
1
June 7 2011
0
Stone Cold Wade Barrett
2
June 7 2011
0
Haduken
2
June 7 2011
0
CYBERDOMAINIAN
1
June 7 2011
0
Republican Ho
8
June 7 2011
0
Yuna
2
June 7 2011
0
Republican Ho
9
June 7 2011
0
Smokey
3
June 7 2011
0
Republican Ho
10
June 7 2011
0
Chase Burger
4
June 7 2011
0
Mountie Otto
1
June 7 2011
0
Jeff Hardy
3
June 7 2011
0
Mountie Otto
2
June 7 2011
0
TY.
7
June 7 2011
0
Mountie Otto
3
June 7 2011
0
Matt Eichorn
28
June 7 2011
0
Blake
13
June 7 2011
0
Max Damage
1
June 7 2011
0
Jesus Habinero
4
June 7 2011
0
Max Damage
2
June 7 2011
0
Jesus Habinero
5
June 7 2011
0
Shawn Heritage
1
June 7 2011
0
Suspect
8
June 7 2011
0
Evan O'Shea
7
June 7 2011
0
Kurt Angle
3
June 7 2011
0
Chas
1
June 7 2011
0
Kurt Angle
4
June 7 2011
112
Kane
2
September 27 2011
6
Biff Andreas
1
October 3 2011
8
Happy Vim
1
October 11 2011
0
Biff Andreas
2
October 11 2011
0
Dark Magician
2
October 11 2011
0
Blake
14
October 11 2011
0
Devil Goat
9
October 11 2011
0
Blake
15
October 11 2011
17
Dolph Ziggler & JTG
1/5
October 28 2011
0
Dolph Ziggler
1 (Cont)
October 28 2011
0
Kofi Kingston
1
October 28 2011
0
Ezekiel Jackson
1
October 28 2011
0
Diamond Dallas Page
1
October 28 2011
0
Danny Jackpot
16
October 28 2011
0
Suspect
9
October 28 2011
0
Stone Cold Steve Austin
1
October 28 2011
0
TRS & John Morrison
1/1
October 28 2011
0
The Undertaker
2
October 28 2011
0
Rodriguez
1
October 28 2011
0
Kofi Kingston
2
October 28 2011
0
TRS
2
October 28 2011
0
Caylen Rogers
10
October 28 2011
0
Shelton Benjamin
8
October 28 2011
0
Dorf Liggleton
4
October 28 2011
0
The Rock
8
October 28 2011
0
Vance Archer
1
October 28 2011
0
The Undertaker
3
October 28 2011
0
Evan O'Shea
8
October 28 2011
195
Vacant
May 10 2012
Little Mac
1
June 11th, 2012
0
Piston Honda
1
June 11th, 2012
0
Little Mac
2
June 11th, 2012
0
Soda Popinski
1
June 11th, 2012
0
Referee Mario
1
June 11th, 2012
0
E. Tigre
1
June 11th, 2012
0
Doink The Clown
1
June 11th, 2012
216
Title Vacated for FNW & IWT Make A Statement

"Stone Cold" Wade Barrett

3
February 11th, 2012
0
Evan O'Shea
9
February 11th, 2012
0
Jason Matthews
3
February 11th, 2012
0
Kurt Angle
5
February 11th, 2012
0
Blake
16
February 11th, 2012
0
Jason Matthews
4
February 11th, 2012
0
Brent Harvanator
1
February 11th, 2012
0
James Blazer
1
February 11th, 2012
0
Matt Eichorn
29
February 11th, 2012
0
AJ Lee
1
February 11th, 2012
0
James Blazer
2
February 11th, 2012
0
Tyler King
1
February 11th, 2012
0
Republican Ho
11
February 11th, 2012
0
James Blazer
3
February 11th, 2012
0
Republican Ho
12
February 11th, 2012
1866
Multiple Reigns Leaderboard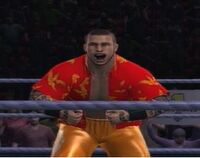 Only people who have had 10 or more reigns of the IHMW are listed here:
| Rank | Wrestler | # Of Reigns | Combined days |
| --- | --- | --- | --- |
| 1. | Evan O'Shea | 8 | 207 |
| 2. | Kurt Angle | 4 | 122 |
| 3. | Rhino | 2 | 47 |
| 4. | Blake | 15 | 44 |
| 5. | Danny Jackpot | 16 | 40 |
| 6. | Aj Styles | 1 | 36 |
| 7. | The Rock | 8 | 34 |
| 8. | Chyna | 6 | 32 |
| 9. | "Supermex" Jose Hernandez | 1 | 20 |
| 10. | Caylen Rogers | 10 | 18 |
| 11. | Kenzo Suzuki | 1 | 13 |
| 12. | Matt Eichorn | 28 | 12 |
| 13. | Biff Andreas | 2 | 8 |
| 14. | Republican Ho/Ho | 10 | 7 |
| 15. | Kane | 2 | 6 |
| 16. | Dorf Liggleton | 4 | 6 |
| 17. | Chavo Guerrero | 2 | 4 |
| 18. | Big Show | 8 | 4 |
| 19. | John Cena | 5 | 3 |
| 20. | AKIWOMAN | 5 | 1 |
| 21. | Meat Staisak | 1 | 1 |
| 22. | Chris Jericho | 4 | 1 |
| 23. | Tazz | 5 | 1 |
| 24. | Shad | 4 | 1 |