Jacob Marley
Statistics
Names
Jacob Marley
Height
6'3
Weight
220 lbs
Born
May 21, 1989 (Age 22)
Birthplace
Arlington,Texas
Died
Resides
Billed from
Trained by
Foghorn Sanders
Debut
2001
Retired
Jacob Marley is a CAW owned by Burb and wrestles in SDA and New-WWE.
Early Days
Jacob Marley was a CAW found on CAW Wiki who used to have a hilariously bad page. It was just the profile box and that stupid ass picture of a kid playing Xbox.
Superstar Development Alliance
Jacob Marley would make his debut in SDA in a Fatal Four Way, facing Spitfire, Happy Vim and RKO, which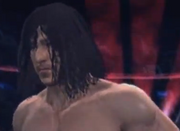 Spitifre would be successful in. Marley would then score his first win in SDA, defeating Jason Matthews and RKO on SDA 4. Jacob Marley would then face off against Kosmo Thomas, but would be defeated when Kosmo Thomas hit the Doctor Bomb on Marley.
Jacob Marley would take part in the match to determine the first SDA World Champion, but would be the first to be eliminated, by Dangerman Dyno. The match and championship would be won by Kosmo Thomas. Marley would gain the first opportunity to win the SDA World Championship from Thomas, but was defeated by Thomas in a Steel Cage. Jacob Marley would then defeat "Dangerman" Dyno in singles competition.
In 2014, after a long hiatus from wrestling, he and his tag team partner Demar Thomas would join New-NAW/AWP training facility as official trainees along with other independent CAWs.
Finishers and Signature Moves
THE EVERLASTING GOBSTOPPER (Muscle Buster)
Championships and other Accomplishments
Theme
Template:DevelopingFuturesWrestling