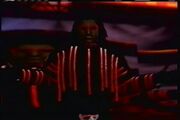 Jalin Brown (Born October 18, 1986) is a CAW Superstar, currently signed to World CAW Wrestling (WCW) and currently signed to Elite Dynasty Federation (EDF). Jalin Brown was born in Indianapolis, IN, where he is billed from. Jalin Brown is the younger cousin of CAW Superstar Lemarcus Carter.
WCW
Jalin Brown made his WCW debut back in 2008 when WCW was an efed. Jalin Brown and his cousin, Jack Chatman became tag team champions. By the time WCW made their caw fed debut, they were tag team champions, but shortly afterwards, Jalin Brown left WCW. About a year later, Jalin Brown made his return to WCW when he viciously assaulted then-Intercontinental Champion Haduken. And costed Haduken his title at Souled Out 2011. They would have a Bunkhouse Match at Slamboree 2, in which Jalin Brown was victorious. WCW would then go on a hiatus, until they made their return in March 2012 when Jalin Brown and Haduken fought again at Judgment Day, this time, Haduken was victorious. After Jack Chatman returned, they formed The Family, when they lost to The Rock and John Cena on Nitro. Since then, his career has gone up and down.
EDF
Following his cousin Lemarcus' footsteps, Jalin signed a contract to be a part of EDF. Even though he hasn't made his debut yet, he has been in training getting ready for his shot to move up on the roster.
Finishers
Love Hurts (RKO)
Themes
LMFAO Sexy and I know it (His singles theme)
Playa fly Nobody needs Nobody (The Family Theme)
Ad blocker interference detected!
Wikia is a free-to-use site that makes money from advertising. We have a modified experience for viewers using ad blockers

Wikia is not accessible if you've made further modifications. Remove the custom ad blocker rule(s) and the page will load as expected.