Toxicosis
Statistics
Names
Toxicosis
Tox
Jeremy James
Height
6'3
Weight
205 lbs.
Born
January 2, 1983
Birthplace
Edmonton, Alberta, Canada
Died
Not available
Not available
Resides
Edmonton, Alberta, Canada
Billed from
Edmonton, Alberta, Canada
Trained by
Danny Jackpot
Debut
8/16/2009 at NAW Emperor Rule
Retired
Not available
Jerr James (born January 2, 1983), better known as his ring name, Toxicosis, is a professional wrestler currently signed to New Age Wrestling owned by CAW Veteran Danny Jackpot. He was found by Danny Jackpot in 1999, while wrestling Ryan Stewart (known in the ring as Ryan Rex) at a local gym. Danny and Jerr soon became close friends, and they helped train each other.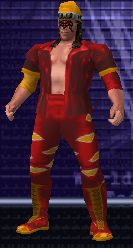 New Age Wrestling
Jerr started out at Emperor Rule, in an 8-way CAW Battle Royal for a 1-year contract to NAW. Although Jerr did not win the match, he managed to sweet talk his way with NAW commissioner William Regal, and got a 2-year contract. Jerr would mainly lose a large amount of his matches, until a small shining amount of light came for him, when he helped Ryan Rex defeat Biff Andreas. Ryan was able to get Jerr into a Fatal four way match for the NAW Television Championship, against Peter Griffin, Ryan, and Biff Andreas. Jerr won the match after a simple springboard leg drop (which proved something Jerr has said before about Peter not knowing how to wrestle). He would then go on to lose the title at NAW New Found Glory. After doing absolutely nothing for the next few months, he would proceed to get kicked out after a "Loser leaves to DCO" match. DCO would end and Toxicosis wouldnt appear on TV in months. He would return at the NAW North Webmatch 3-10-2010 to a losing effort to Bubba Ray Dudley.
Championships and Accomplishments
Finishers
Lead Poisoning (High Impact Powerbomb into Brainbuster)
Frog Splash
Toxic Bomber (Back Suplex spun into a powerbomb) '''(NAW Only)
Toxicutter (Multiple Variations of anything, but ALWAYS ends in a cutter)
Legdrop of DOOM (Springboard Legdrop)
Entrance Themes
Ad blocker interference detected!
Wikia is a free-to-use site that makes money from advertising. We have a modified experience for viewers using ad blockers

Wikia is not accessible if you've made further modifications. Remove the custom ad blocker rule(s) and the page will load as expected.