Jeri-MAX
Recoil
is the first CPV of the Jeri-MAX Season since the end of Season 3 when its predecessor
Jeri-MAX Black Hole
was retired by Debra in 2014.
The first Recoil event is scheduled for Season 4.
Season 4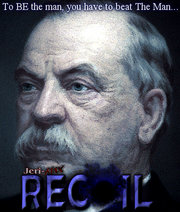 The first Jeri-MAX Recoil event is scheduled for Season 4. The official theme song is "This is the New Shit" by Marilyn Manson. There is currently 1 match scheduled for the event. The main event will feature Jeri-MAX World Heavyweight Champion, Grover Cleveland, defending his title against the winner of the
Jeri-MAX King of Heavens Tournament
, Zoocock Poopgoblin.
Notes:
Pre 2A - DreCon and Andre decided they were above the Hardcore Championship and walked out on the match, vacating the Hardcore Championship in the process.
Pre 2B - Batista would claim the now-vacated Hardcore Championship for the newest member of the MMA, Phil Brookes, who announced he only has a five match contract with Jeri-MAX, cancelling the 24/7 rule to the title. Dylan Connell wanted to challenge for the title after he was previously betrayed by Batista, but ended up being assaulted by Phil Brookes.
1 - Grand Master Sexay ran in on the match, but did nothing. Afterwards, Rachel hit Matt Eichorn with a Brainbuster.
2 - Bo Dallas walked out on Evan Redcorne, allowing him to be defeated by Batista and Severn. After the match, Lucas Gomez came out to convince Evan Redcorne to continue the Anti-WWE Crusade, but Redcorne assaulted Gomez instead.
3 -After the match, Eichorn threatened to hit Rachel with a Barbwire 2x4 following the aftermath with his match with McDaniel, but he decided not to do so. Rachel then tried to charm Eichorn to be her new boyfriend, but Eichorn refused.
4 - The match ended with Dorf and Pacman tied with 1 point each, but Debra called for a sudden death to determine a clear winner.
5 - After the match, Ladies Man assaulted Jurts crotch with a Singapore Cane until El Jefe saved him.
7 - The match was originally supposed to be Johnny Coldblud vs. Bludgeon, but Blugeon no-showed. Chris Jericho confronted Johnny and wanted to take Blugeons place in the match. Instead, Johnny was substituted by Liz, Blugeons younger and, allegedly, stronger little sister.