Jewish
Statistics
Names
Jewish
Height
6ft 2in
Weight
212lbs
Born
November 30, 1969 (Age 40)
Birthplace
Kitchen, Ontario, Canada
Died
N/A
N/A
Resides
Jerusalem
Billed from
Jerusalem
Trained by
The Rabbi
Debut
January 17, 2010
Retired
N/A
Jason Reso realized how much of a sponge he was to his best friend Adam Copeland, so he walked away from his current job (replaced by a fake Christian) for a while to find his inner self. Some Rabbi noticed a drunken Christian walking through the deserts of Jerusalem, and asked for an autograph. He told the Rabbi to fuck off, but he wouldn't stop asking. Reso then started swinging fists at him, and the Rabbi blocked all of his punches with his Jew-ninja powers. He eventually stopped swinging at him because he sucked ass at fighting and gave the Rabbi his autograph. After he gave the Rabbi his autograph, he asked him how he was so strong and agile. The Rabbi then showed Reso the ways of the Jew. He is currently in a tag team with other GWN Superstar, Wigs, they are managed by Jeff Wiggum (also known as Jeff Winninger) and they formed a tag team called "Jewigs". .Jewish also appeared in ICCW Zomg-a-Mania 2008.
Managers
Themes
"Just Close Your Eyes" - Story of the Year (MIDI Instrumental)
"Nigger Jew" - Allan Caesar III w/ Story of the Year (Used with Jewigs)
Signatures and Finishers
Frogsplash/"Flying Halocaust"/"Star of David Splash"
Killswitch Engage/"World War II"/"Jewish Drop"
Jewish Elbow drop
Spinning Dradle Elbow
Low Blow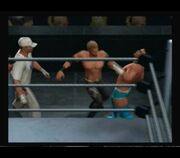 Ad blocker interference detected!
Wikia is a free-to-use site that makes money from advertising. We have a modified experience for viewers using ad blockers

Wikia is not accessible if you've made further modifications. Remove the custom ad blocker rule(s) and the page will load as expected.