Johnny NoName
Statistics
Names
Johnny NoName
Jo .E Helmsely
Doomsday
Juan
Height
5 ft. 10in.
Weight
Light-Heavyweight
Born
Birthplace
New York
Died
Resides
New York
Billed from
Trained by
Self-Trained
Debut
October, 1996
Retired
Anderson Moore is CAW Professional Wrestler better known as Johnny NoName. He is currently working for NYCW. He is also a former SEA Wrestler. He was a SEA commentator on rare occasions. His attempt to join URWL was unsuccessful. Johnny NoName made his last appearances on XWA programing before returning to SEA. Johnny NoName made his SEA return as a commentator on the SEA webshow 2010 Edition. Johnny NoName made his in ring return to NYCW when he competed in the NYCW's second web match against Crazy Mexican. Johnny NoName made his SEA In-ring return against SEA Wrestler Justin Tyme. NoName is a NYCW [WCE] Original

Fueds
Xtreme Tony
This Fued began at the NYCW Webshow 5-14-10 when Johnny NoName attacked Xtreme Tony after his match with Sherman. Sherman came to Xtreme Tony's aid and Johnny left the ring. At Ground Zero, he formed a quick alliance with Don Waldy and feud with Xtreme Tony and Sherman until Episode 4. Later on, the fued ended due to the 6 Pack Challenge Match for the NYCW World Heavyweight Title which was won by Gregory Black.

Byron "Sherman" Herrarte
The fued began during the the Xtreme Tony fued. The fued got more intense when Johnny was in a 3 way dance against Sherman and Joseph Matos. On CAW Mainstream, he requested a one on one match against Sherman at SummerGames 2010. The rseason being that he i frustrated with the fact that things aren't going his way and he has failed to beat sherman. He is set to face Sherman at SummerGames 2010 and looks to defeat him.

Championships/accomplishments: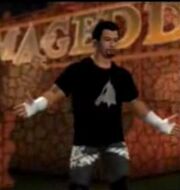 1x SEA Tag Team Champion
3x World Champion
6x NYCW World Tag Team Champion
2x NYCW Hardcore Champion
1x SEA Cruiserweight Champion
2x NYCW New York State Champion
1x NGX Internet Champion
2x NYCW Cruiserweight Champion
Theme Songs:
"Bombshell" by Powerman 5000 (SEA Season 1)
WWE Production Theme: "New Age Frankenstein" [Version 1] (SEA Season 1)
"Bonercrusher" by Videohelper Music Group (NYCW:2010-Present)
Ad blocker interference detected!
Wikia is a free-to-use site that makes money from advertising. We have a modified experience for viewers using ad blockers

Wikia is not accessible if you've made further modifications. Remove the custom ad blocker rule(s) and the page will load as expected.