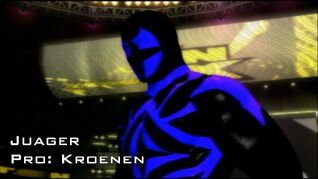 Juager (date of birth unknown) is a caw professional wrestler who currentlly wrestles for HWE (Homies Wrestling Entertainment). He joined the promotion on the NXT brand.
He is a one time HWE unified tag team champion, with Lucky T after he chose a new partner.
HWE
2011 Season
Juager joined HWE as a rookie on NXT, with his pro Kroenen. His first match was against fellow rookie Cannible Hector. He next competed in a triple threat TLC match against Rocky Blade and Zeke, which he did not win. At Homieslam, Juager broke away from his fellow rookies and joined the Black Sun Empire. At the ppv, Lucky T revealed Juager as his new partner after T-Bone's death. T and Juager retained their tag titles against the returning Outlanders at the ppv. Following this Juager then competed in his first homies rumble match, coming in at #17. Following this, Juager and Lucky attacked ICP at Night of Chumpions, setting up their match at Homiemania that year. At Homiemania, Jaugar made his first apperence at the big show in a steel cage match alongside partner Lucky against ICP for the tag titles. Jaugar did not fair to well in his first big match, as he was over come by ICP's experience and lost the match, costing him and T the tag titles.
Titles and Accomplishments
HWE
HWE Unified Tag Team Champion (1 time) - Lucky T
Ad blocker interference detected!
Wikia is a free-to-use site that makes money from advertising. We have a modified experience for viewers using ad blockers

Wikia is not accessible if you've made further modifications. Remove the custom ad blocker rule(s) and the page will load as expected.