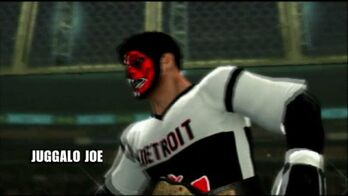 Juggalo Joe
(Date of Birth Unknown) is a CAW professional wrestler. He currently wrestles for
HWE (Homies Wrestling Entertainment).
Juggalo Joe is a former HWE and World Heavyweight champion. He is a true veteran of HWE and has won almost every single title in the leagues history. He used to be good personal friends with Ian "Vegas" Blair, influencing many of his odd decisions on the league, until they had a falling out. He is one the HWE originals.
HWE
2006 Season
Juggalo Joe has been in HWE since the beginning. He also tagged with Don the Dude as the Argentine Assholes. Over the beginning of the season he held various Homies titles. He fought Ian's Hoe in one of his first matches, losing to her. Later on he was involved in a backstage brawl with Steve Larkins Jr. which he lost as well. He then had a series of matches with his best friend Ian, including a Hell in a cell and a TLC match. He won the hell in a cell match, and lost the steel cage. He won the World Heavyweight title as well in one of these matches. (Although it is not known if it is a official title win or if it was before the titles where counted). Juggalo Joe then took part in a 32 man Legends vs Homies vs Juggalos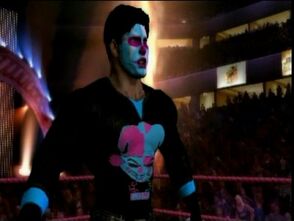 Tournament. His first round opponent would be the British Bulldog. Even with the help of the Dude at ringside, Juggalo Joe lost in the first round. After that tournament, Ian created a Homies tournament to determine the true Homies Champion. Juggalo Joes round 1 opponent was Anal Angel, and it was a steel cage match. He would win the cage match and move onto round 2. His round 2 match was a hardcore match vs Extreme Kenne. He would win this match after a long fight and close pinfall. In the semi finals he would fight Dani 2 Dope. He would win the match with dani's own move, the 619. He advanced to the finals where he'd fight Steve Larkins Jr to determine the first ever Homies Champion. Jr would be attacked by the Undertaker during the match, giving JJ the edge. JJ would pin Steve after Takers attack to win the title and the tournament. JJ would then fight Dani 2 Dope in a TLC match on the next Smackdown. Dani would win the match. Juggalo Joe would be in the main event of the biggest ppv of the year, Homiemania. The main event would be Dani 2 Dope defending her 420 title against Juggalo Joe and Ian "Air" Blair in a triple threat Steel Cage match. Ian won the match and the 420 title after a close finish where all three combatants touched the floor at nearly the same time.
2007 season
Juggalo Joe would get a rematch for the 420 title at Homielash vs the champion Ian and former champion Dani 2 Dope in a steel cage match. Dani would end up coming away with the belt. JJ would then fight Dani's new husband Kenne on the next RAW, and after a vandaminator JJ made the pin and got the win. At the Homies Vengence ppv JJ would accompany his gf in her womens title match. JJ would then be in a steel cage match at Homieslam ppv against Nate Willard, title for title. Due to Nate being attacked before the match with Kratos, a replacement was found and the match changed to just JJ's title being on the line. It ended up being "The Immortal" Hulk Hogan. JJ would lose his HWE title to Hulk Hogan after a leg drop. At Homies Night Main Event, JJ got a rematch for his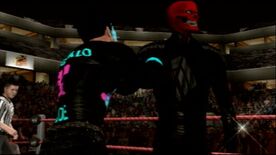 HWE title in a steel cage match. Escaping the cage, JJ regained his HWE title from Hogan. At Taboo Tuesday, JJ defended the HWE title against Cedric the Dealer in a TLC match, where he would lose the HWE title to Cedric. He then accompanied his girlfriend to the ring during her match at the ppv. After Ian was taken out and his title was vacated, JJ was inserted into the tournament to crown the new 420 champion. His first round opponent was Don the Dude, whom he defeated and proceeded to round 2. In the next round he fought and defeated Nizzo, advancing to the finals. The finals would be JJ vs Jeff Nitz. Nitz would just barely beat JJ in a hard fought fight. JJ would then compete in a triple threat steel cage match for the world heavyweight title against champion Kratos and Steve Larkins Jr at New Years Revolution. Kratos retained the title in the match. At Homies Night Main event, JJ took part in a Last Chance match for a 420 title match at Homiemania. His other opponents where Dani 2 Dope, Anal Angel, Dave Keene, Don the Dude, and Creg. He would end up being eliminated. After Nitz successfully retained his 420 title, Jim Waskul came down and announced the cashing in of the MITB. Juggalo Joe appeared, rushed the ring, and took out Nitz with a rock bottom. He pinned Nitz and got the three count. JJ had won the 420 title. As he celebrated in the ring, Vegas came out to congratulate him.
2008 Season
On the first show of the new year, Homielash, Juggalo Joe defended the 420 belt against former champion Jeff Nitz. In the middle of the match, Jason appeared out of no where and chokeslammed Nitz and JJ, causing the match to end in DQ. On the next raw, JJ fought Triple HHH, but lost after a pedigree. Then JJ took part in a King of the Ring Tournament. His first round opponent was HBK, who he lost to after a sweet chin music. On the next
ECW, JJ defeated Indiana Dude in a Hell in a Cell match. When competing on smackdown a few weeks later, The Joker interfered and bashed JJ over the head with a chair busting him open. Then at Cyber Sunday, JJ defended his 420 title in a hardcore match vs Psycho Michael. Despite Mikes good showing, Juggalo Joe beat him and retained his title. At December to Dismember, JJ defended his title against Dani 2 Dope in a TLC match. JJ fought hard but came up short, and Dani walked away with the belt. Determined to get his belt back, he entered the Homies Rumble. Unfortunately for him, he drew #1. But against the odds he survived all the way to the end and won his first homies rumble match. He immediately choose to fight for the 420 title. At the Homies Way out PPV he fought against Dani's husband Dave Keene, with dani is his corner. Keene overcame JJ however and made him tap out. The Nitzer also somehow snuck himself into the 420 match at HM so it became a triple threat. At Homiemania JJ fought Dani 2 Dope and Nitzer for the 420 belt. JJ came up short as Dani pinned Nitz to retain the belt. JJ gave props to his homie for retaining and attacked Jason after the match.
2009 Season
JJ began this year by challenging IC champion Kofi Kingston to a title match at Homielash. After the defeat at Homiemania, JJ took his anger out on Kofi and claimed his first IC title. A few weeks later on Raw, a 6 man HWE title match was held. HWE champion Vegas defended against Orton, Batista, JJ, Jericho, and Cedric. JJ was eliminated from the match. With Homieslam coming up, JJ's friend Dani needed a ally to help her stop Red Skull. JJ aided her and they formed the Homie Avengers. They fought Red Skull and Kroenen but they lost the match. After the ppv JJ attacked Kroenen, who in turn attacked him later to return the favor. He then stole his weed and flushed it down the toilet. He then fought Red Skull in a inferno match on Saturday Nights Main event, which he lost. JJ would then take part in the WCW title tournament to determine the new WCW champion. His first round opponet was Nizzo, who he defeated. His second round opponet was Vegas, whom defeated him and ended his run in the tournament.
At Cyber Funday, the fans voted for JJ to defend his IC title against HBK in a extreme rules match. After being double teamed by DX and almost being pinned, aid for JJ came in the form of ICP, who gave him a edge and helped him retain the title. At Homie Series, he defended his IC title against Sharky. In a upset victory, Sharky won the belt. On the next Homies Night Main Event, Juggalo Joe had to fight the debuting Big T. Upset about losing his IC title, he beat Big T pretty badly and made the pin. JJ got a rematch for his IC title at Homies tribute to the troops against Sharky in a steel cage match. JJ regained his IC title after escaping the cage. At Homies Armageddon, JJ fought Captain Spalding in match. After Joker got him disqualified, they double teamed him and Spalding injured JJ. JJ would be out with a crushed Larnex for a unknown amount of time. Secretly he recovered faster then others thought but wanted the element of surprise when he came back. He donned a new persona, called The Wrath. As the Wraith he came in #7 in the Homies Rumble. To get revenge he eliminated Joker, as well as The Ram before being thrown out. He would then win a match against Primo Vega on Raw. On the ECW the week after, Ajack got a win over the Wraith. Wraith was then inserted into the Money in the Bank match at Homiemania. Before the big show, he competed in a triple threat match with Sharky and Nitz, two other competitors in the MITB match. Wraith won the MITB at Homiemania. Later that night JJ finally revealed his identity, as he cashed in his MITB for the WCW title as Captain Spalding was trying to rape Harley. He caught the man who took him out by surprise and pinned him for the title and Harley's Contract. Harley thanked her savior and they left the arena.
2010 Season
JJ began this season on Raw as the WCW champion. His first match was against Steve Larkins Jr. He retained the title after a chair shot and pin on Steve. Jr was mad he needed to use a chair to beat him so he challenged him to a match at Homielash. The next week on Raw he defended his title against former champion Captain Spalding. Spalding won the match and the title when he rolled up JJ. Cashing in his rematch and allowing Jr his rematch as well, these three met in a TLC match at Homielash. In a brutal battle, Jr overcame the other two and got the WCW title. At this point the Joker had become GM of Raw. He wanted to make Juggalo Joe's life a living hell for taking his title and women from him. He first put JJ in a 2 on 1 handicap first blood match on raw against Captain Spalding and Otis. After JJ won, Joker ambushed him from behind and busted him open with a chair shot. After he had Shane throw Harley from the stage. JJ then took part in the MITB tournament. His first round opponent was rookie Dev. JJ easily beat him and advanced to round 2. In round two he fought Red Skull, which he lost after Joker interfered. On the Raw after Homies Judgement, JJ returned with Harley to attack Joker and Poison Ivy. At the Homies Bash, JJ fought Joker in a inferno match. JJ lost the match. On the Raw after,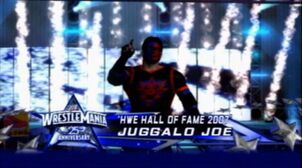 Vegas met his friend backstage. He proposed they attacked Kratos (who beat Vegas for the HWE title last night) and Joker together. He accepted and the brawl broke out. At the Homieslam show, JJ fought Joker, Vegas, and Kratos in a fatal 4 way Hell in a Cell match for the HWE title. JJ would end up hitting Joker with the reality Check and winning the HWE title. The night after on Raw, JJ was put in a match against new World Heavyweight champion J in a draft pick match. JJ lost the match after Joker interfered and J nailed a F-5. JJ then defended the HWE title against former champion Kratos at M's Unforgiven. JJ retained but he almost lost due to Joker abusing Harley Quinn and taking her away. At Homie Series Juggalo Joe put the HWE title on the line against the Joker. In a one sided match, it looked like JJ had the win. All of sudden Harley betrayed him and smashed him with a chair. Then Scarecrow hit him with fear gas, and joker hit a code breaker for the pin. Determined to get his HWE title back he entered the Homies Rumble at #23. He eliminated the Dead Skull, Z, Joker, Ajack, Second Coming, Cedric, TMO and Kore. It came down to him and Big T, the man he beat down a year ago. Big T would get the edge over JJ and win the rumble in a hard fought confrontation. JJ would be inserted into the main event of Homiemania since he was screwed over by Vince. During the main event between Big T and Joker, JJ appeared and nailed a RKO on Joker for screwing him at Homie Series. Big T thanked him and nailed a swanton. But JJ remembered how Big T beat him in the homies rumble and nailed a RKO on him as well. Just then all the other combatants of the main event stormed the ring. In all the commotion, Joker retained the title. In the main event of Homiemania JJ took part in the 6 man hell in a cell match for the HWE title. He survived to the final 2, eliminating his rival Joker. It came down to him and Big T, just like the rumble. JJ couldn't believe a rookie from 09 had come this far. After a very close back and forth, Big T got the edge and beat JJ to win the title.
2011 Season
On the first Raw of the new season, JJ and Kore fought in a parking lot brawl. Both felt they should get a shot at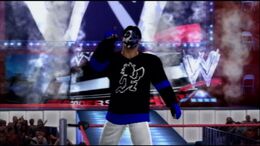 the HWE title and only one could have it, with Kore beating him into submission. At Homielash, Juggalo Joe and Kore fought in a #1 contender match to the HWE title. In a hard fought match, Juggalo Joe won the match and became #1 Contender to Big T's HWE title. On the next raw, during the contract signing for the match, Kore interfered and hit JJ with his own finisher while Big T got away. At TLFC, Juggalo Joe failed at taking the HWE title from Big T in a Ladder match. Kore made his precence known in the match, interfereing on both men. On the next raw Juggalo Joe fought T-Bone in a Raw Elimination Chamber qualifier match. JJ won after his friend Nizzo helped hold off T-Bone. JJ entered the chamber first and had to start off against Kore. As the match progressed JJ held his own
and proved why hes a veteran, but was eliminated by his rival Kore. He then fought J alongside Dani 2 Dope at Ragging Rights in a Smackdown vs Raw match. Tired of J constant trash talk he beat him down, and with the help of Dani, pinned J. Next Joe took part in M's Kombat. His first round opponents where Vegas and Liu Kang. He lost after Vegas pinned Liu Kang. After his fellow Juggalo Kore won his first HWE title at the tournaments conclusion, JJ congratulated him and their old fued was behind them, mostly due to their Juggalo Pride. This leads to the Juggalo Army reuniting. At Homieslam, Juggalo Joe defeated Red Skull in a steel cage match. Joe then entered the Homies Rumble, entering in a #8. He did not win the match and was eliminated. JJ then signed a contract with Vegas for a World Heavyweight title match at Night of Chumpions on the WCW episode. This was interrupted by J, and JJ was attacked by Vegas as he hit him with the belt. JJ got a good bit of revenge, where he, with help from Mystique, defeated Vegas at Night of Chumpions, winning the World title. At Homiemania, Joe had to defend his World Title in a 6 man Hell in a Cell match. Joe fared well in the early going. Joe eventually ended up on the top of the Cell against Vegas. As the two fought, Nizzo, JJ's old ally, came to help him take out Vegas, but he overpowered both. After being power bombed off the cell and being hit by a Shooting star press, Joe was pinned and eliminated from the match.
Homiemania Revenge Tour
Following Homiemania, Joe went with his homies to Liberty City. He then competed in a fatal four way match against Rocky Blade, J, and Ajack. Following this match, Juggalo Joe got a rematch for his World Heavyweight title against TMO. Joe had the match won until Mystique interfered (transformed as him) and let TMO pin her.
2013 Season
Juggalo Joe began the season looking to get back his world title. He was sitting ringside at the World championship match, seeing who he would fight with in the future. He caught the eye of TMO's manager, Mystique, and gave her a solid punch after she decided to get in his face. In his next match in Liberty city, Joe took on fellow juggalo Kore. During the match, Bane appeared for the first time and attacked and beat down Joe in the center of flaming ring. After he dominated Joe to wear he couldn't move, he knocked him off his stretcher and made sure he was crippled.
Finishers and Signatures
Juggalo Check (Reality Check)
Juggalo Drop (Full Throttle)
Juggalo Slam (One handed Chokeslam)
Tag Teams and Stables
The Juggalo Army- A army of Juggalos lead by Juagglo Joe created in 2010. JJ needed his allies close to help keep his title on him. It's members are Juggalo Joe, Dani 2 Dope , Kore, Shaggy 2 Dope, Second Coming, and Violent J. JJ was leader and Kore took over as leader when JJ was injured.
Homies Avenger- A team of JJ and Dani 2 Dope formed in 2009 to stop the reign of terror Opus Maximem was causing.
Championships and Accomplishments
HWE
HWE champion (3 time)
HWE WCW champion (2 time)
HWE 420 champion (1 time)
HWE WH champion (2 time)
HWE IC champion ( 2 time)
HWE Hall of Fame 2007
HWE 2008 Royal Rumble winner
HWE Mr. Money in the Bank
Entrence Themes
Burning Up by ICP
Dont F*CK with me by Twiztid
Ad blocker interference detected!
Wikia is a free-to-use site that makes money from advertising. We have a modified experience for viewers using ad blockers

Wikia is not accessible if you've made further modifications. Remove the custom ad blocker rule(s) and the page will load as expected.