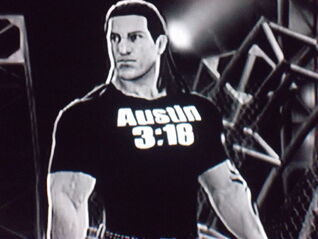 Kevin Tank
You mess with the Tank, well you know what happens
Kevin Tank or Kevin the Tank was the first real big man to debut on Reject tuesday. He was the first and only man on Rejects to beat Goldberg( by count out) in singles competition.  He participated in the 16 man tag match against former wwe wrestlers. He was the 6th Reject to be eliminated in the match. And ever since Goldberg left he has been the most dominant and the biggest man on Rejects. He is a one time rejected champion.
Streak and losing streak.
After Goldberg, along with 6 other superstars left, he was on a goal to beat Goldbergs streak. He was on a winning streak of 122-0. On August 9th, he lost his first match in five months to Roman Wither. Who for the next 2 months would be his main rival. On October 5th a 6man tag match was made. Kevin tank teamed up with Boba fett and Rocky rollins to face Roman, the beast and jeff the killer. But Jeff, for reasons unknown, didn't show. But dispite the missing fighter, Roman and the beast defeated Kevin and his minions. 
Ever since the loss he hasn't been as dominant and hasn't been a fan favorite in days. On October 9th he even lost to Santino who was taking time off. But despite the losses he was able to pick up the win against the beast, one week later. But his victory was cut short when his right knee collapsed on him after the win. His docter stated he will return on the RCW Halloween special.
On the Halloween special of RCW, Kevin Tank returned to face Youngblood in a steel cage match. At the end Youngblood defeated Kevin, but not under his own power. Kevins rage got the best of him, and in the final moments of the match, he suplexed Youngblood through the cage wall. After the match he continued to punish Youngblood by hitting him with the ring bell 13 times. Then to close the night he chokeslamed him through the ring. Stating that the tank is back
Signatures and Finishers.
Signature 1. Boss man slam/side slam.
Signature 2. Jackknife powerbomb.
Finisher 1. Two handed chokeslam.
Finisher 2. Double underhook suplex. 
Stats.
Height. 7.1 
Weight. 465 pounds.
Age. 38.
Birthplace. Chicago, illinois. 
Entrance themes. The game ( Triple H) Rockhouse( Kevin Nash). Meat on the table V3( Ryback).
Championships. Rejected championship.
Status. Alive and well, member of the RCW/ Rejected championship wrestling. Article updating as show continues.
Ad blocker interference detected!
Wikia is a free-to-use site that makes money from advertising. We have a modified experience for viewers using ad blockers

Wikia is not accessible if you've made further modifications. Remove the custom ad blocker rule(s) and the page will load as expected.