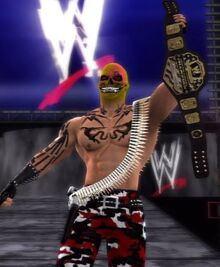 Knuckelhead is a Caw professional wrestler. He currentlly works for HWE (Homie Wrestling Entertainment). He is also widely known as the mascot for the heavy metal band, 5 Finger Death Punch.
He is currently the HWE United States champion.
HWE
2011 Season
Knuckelhead made his debut following The Red Skull's win over the Dead Skull at Homiemania. After speaking to a couple of fans backstage, KH stormed down to the ring and beat down the Red Skull. Realizing he was no match, the red skull left the ring, allowing KH to celebrate with his fans. Following his debut, Knucklehead pursued Red Skull all the way to Liberty City. After seeing what Red Skull did to the statue of Liberty, Knucklehead swore a vendetta on Skull.
2013 Season
Following his hunt for Red Skull, Knuckelhead challenged The Grand Disciple for his United States championship in a improptu match. Skull successfully nailed Disciple with brass knuckles at the matches beginning and then followed it with a 450 splash and pin. With this, he claimed his first belt in HWE. Following the pin, Knuckelhead celebrated his win with his friend Crazy Bob.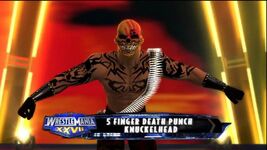 Championships and Accomplishments
HWE

HWE United States Champion - 1 time (current)
Entrence Themes
HWE

American Capitalist by 5FDP
Ad blocker interference detected!
Wikia is a free-to-use site that makes money from advertising. We have a modified experience for viewers using ad blockers

Wikia is not accessible if you've made further modifications. Remove the custom ad blocker rule(s) and the page will load as expected.