Lewis Parks was a TNE Superstar. 
Lewis Parks
Statistics
Names
Lewis Parks
Height
Don't care
Weight
Don't care
Born
Don't care
Birthplace
Don't care
Died
September 25,2012
Don't care
Resides
Don't care
Billed from
Don't care
Trained by
Don't care
Debut
Don't care
Retired
September 25,2012
Total Non-Stop Entertainment
Lewis Parks is signed to TNE. On Episode 1 Parks was in a 6 man battle royal for the TNE Intercontinetnal Championship but was unsuccessful. The following week Parks defeated Kid Punk to become #1 Contender for the Championship, he would take on Cody Meyers at Doomsday, in the same week Cody Attacked Parks, at reactions Parks said he will be Champion. Parks defeted Meyers by Disqualflation so Parks did not become champion. In episode 3 Parks became the TNE Intercontinal Champion defeating Cody Meyers in a steel cage match. Parks had a week off, but lost his next match against the TNE World Heavyweight Champion Monzer Mazaydeh and post match both men were attacked by Chris Jorgsten. At TNE Violence Parks would put his Intercontinal Championship on the line against both Cody Meyers and Kid Punk. Parks won at Violence. In episode 7 Parks lost a match to CJ and would put his IC title on the line at TNE Bash. Parks lost at Bash. On episode 8 Parks teamed with Chris Jorgsten in a winning effort against Ryan Baxter and CJ. In the Gauntlet in episode 9 Parks got sledgechoked by Dude to be taken out of the ring by a strecher. In episode 11 Lewis Parks & Gaz Tower lost ot The Luchadore Twins. In episode 13 RAW Parks defeated Devon Aarons to qualfly for TNE King of the Ring. On SmackDown the same week Parks teamed with Lord of Darkness defeating Team One to be in the King of the Ring final which he lost. On episode 15 Parks lost to xXx. On episode 17 Parks lost to Kid Punk by countout due to interference by xXx.
Season 2
At TNE Wrestlemania a 4 way ladder match will take place for the Vacant TNE Intercontinental Championship between xXx, Tyson, Chris Jorgsten & Lewis Parks.
Death
On September 25, 2012 Lewis Parks died of Aids after having sex with a Vietnamese prostitute.
In Wrestling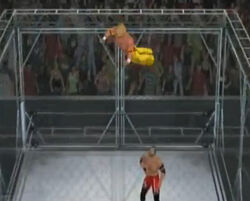 Finishing Moves
:
Flyin' Global (450 Neckbreaker)
Signature Moves:
Championships and accomplishments
Total Non-Stop Entertainment
Ad blocker interference detected!
Wikia is a free-to-use site that makes money from advertising. We have a modified experience for viewers using ad blockers

Wikia is not accessible if you've made further modifications. Remove the custom ad blocker rule(s) and the page will load as expected.