This is a List of currrently defunct Its Walleh Time Championship Belts. All Dates listed here are listed according to when the superstar won it in the NZST.
IWT Legends Championship
This is a championship that will be solely defended on IWT Xtra Webmatches which feature a variety of CAWs not usually signed to IWT. The First champion was Matt Hardy who won in a 30 Man-Royal Rumble and The Last Champion was
Evan O'Shea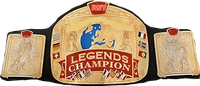 . The belt was official retired in IWT as at 6th April 2011.
Wrestler:
Times
Date Won
Defenses
Days Held
Defeated
Match Type
Matt Hardy
1
September 29, 2010
0
16
Perry Saturn
Royal Rumble
Shawn Dynasty
1
October 15, 2010
0
60
Matt Hardy and Perry Saturn
Falls Count Anywhere Triple Threat Match
Sultan Shetty
1
December 15, 2010
0
0 (1 hour)
Shawn Dynasty
Singles Match
Coca Cola Can
1
December 15, 2010
1
1
Sultan Shetty
Cage Match
Devil Goat
1
December 16, 2010
0
13
Coca Cola Can
Cage Match
Jesus Habinero
1
December 29, 2010
0
0
Devil Goat
Oshujax
1
December 29, 2010
0
1
Jesus Habinero
Cage Match
Chase Burger
1
December 30, 2010
0
0
CM Punk and Oshujax
Triple Threat Match
Ho
1
December 30, 2010
0
6
The Rock
12-Battle Royal
The Rock
1
January 5, 2010
0
12
Devil Goat
40-Battle Royal
Steven Spriter
1
December 30, 2010
0
0 (10 mins)
The Rock
Cage Match
CYBERDOMAINIAN
1
January 18, 2011
0
28
Steven Spriter
Triple Threat Match
El Jefe
1
Febuary 15, 2011
0
32
CYBERDOMAINIAN
Singles Match
Title Vacated and Awarded to Evan O'Shea
Evan O'Shea
1
March 19, 2011
1
49
N/A
N/A
Title currently active in URW. Inactive within IWT as at 6th April 2011