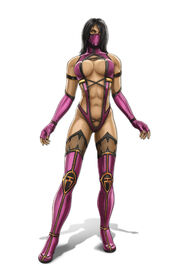 Mileena is a video game character from the Mortal Kombat series. She made her first appearence in Mortal Kombat II. She was created in the Flesh Pits by Shang Tsung with fusing Takatan flesh and Edenian blood. The result of this made Mileena have a Tarkatan mouth. She served as one of Shao Khan's personal assassins.
Title History
ACW Vixen's Tag Team Champion - 2x (2x w/ Morrigan)
ACW Vixen's Venom Champion
Moves
Masking of the Tragedy (Unprettier/Killswitch)
The Deforming Art of Beauty (GTS)
Diving Kick
Rolling Senton
Running Knee
Ad blocker interference detected!
Wikia is a free-to-use site that makes money from advertising. We have a modified experience for viewers using ad blockers

Wikia is not accessible if you've made further modifications. Remove the custom ad blocker rule(s) and the page will load as expected.