Miles Martinez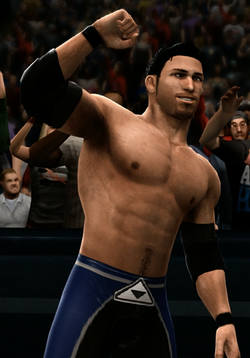 Miles Martinez in 2013
Birth name
Miles Islas Martinez
Resides
Union City, California
Professional wrestling career
Debut
2012
"Oh My God! It's Miles Martinez!!!" - EDF Commentator Kyle Wright
Miles Martinez is a Mexican professional wrestler currently unsigned. He was previously signed to Elite Dynasty Federation.
Miles became popular for basing his gimmick, moveset, and attire around video games, specifically games from varies Nintendo consoles.
Defunct Promotions:
Debut and Tag Team Championship Run (2013)
Miles Martinez made a guest appearance in EDF at the Leathel Lottery PPV teaming with Evan O'Shea in a Universal Tag Team Championship match filling in for James Blazer; who was injured earlier in the night during the Preshow. Miles and Evan would defeat both Hannah Layla and Giant Guppy of the Cradle Shock to retain to gold for the team. Due to this result, Miles was officially considered to be a holder of the Universal Tag Team Championship under the freebird rule, giving him his first championship in professional wrestling. He would partake in the Lethal Lottery match representing then-RSW where commentator Kyle Wright would announce Miles would be signed to EDF for the Talent Exchange. On an edition of the EDF Webmatches, Miles Martinez would face and be defeated by Universal Heavyweight Champion Lemarcus Carter.
EDF would close down shortly afterwards.
Finishers and Signatures:
Finishing Moves:
Super Miles 64 (450 Splash)
Game Over! (Cutter)
Signature Moves:
Pac-Man Fever! (Shimmy knee drop)
SHORYUKEN! (Running spinning uppercut)
HADOUKEN! (Theatrical double palm shot to the chest)
Back Brain Kick! (Enzugiri)
1-Up (Theatrical elbow drop)
Goomba Stomp (Diving double foot Stomp)
Couch Potato Special! (Rope hung hip attack)
Sun Flower Stunner (Split stunner)
Frogger Splash (Frog splash; often with theatrics)
Little Mac Shuffle (Shuffle punching combination with theatrics)
Multiple Hurricanrana Variations

Ring-In Flip with a bridge
Spike Inverted
Diving
Avalanche
DDT Transitioned
Tilt-a-whirl
Arm twist rope walk
Championship History and Other Accomplishments:
Miles became champion when one half of then champions James Blazer was attacked backstage, The other half of the champions, Evan O'Shea, then made Miles his replacement for the match. EDF Management decided to make all three men the champions later in the event.
Theme Songs:
Ad blocker interference detected!
Wikia is a free-to-use site that makes money from advertising. We have a modified experience for viewers using ad blockers

Wikia is not accessible if you've made further modifications. Remove the custom ad blocker rule(s) and the page will load as expected.