Voltage
Details
Acronym
None
Establishment
August 18th, 2010
Owner(s)
Danny Jackpot
Staff
None
Formerly
None
Website
www.youtube.com/user/NAWDannyJackpot
New Age Wrestling
's fourth episodically show first originally made to be a Heat/Velocity sort of show. Mayhem would stop being produced and this would replace and become the only show that's currently airing regularly for NAW.
NAW Voltage History
NAW Voltage 1
NAW Voltage 2
NAW Voltage 3
NAW Voltage 4
johnEblud def Edge (c) (Pin)
Commentated by: Walleh and Dave Martini
NAW Voltage 5
NAW Voltage 6
Pornoman def Chuck Palumbo w/Billy Bunn (Pin)
Commentated by: Jeff Winninger
NAW Voltage 7
Note the commentary return of Bpez.
NAW Voltage 8
NAW Voltage 9
Link def Bret Michaels (Pin)

Bret had originally won the match by pinfall but Allan Caesar had came out and attacked Bret with a lead pipe and demanded the match be restarted.

Commentated by: Otto & Homer
NAW Voltage 10
NAW Voltage 11
Four on Four "ACWL Rules" Gauntlet

Team ACWL (Pornoman (NAW World Champion), Link, Guile, Shadow The Hedgehog def Team NAW (Bret Michaels, Larry It (NAW Intercontinental Champion, Chris Johansen, & The Crippler (NAW Television Champion) (Elimination)

Larry It def Link (3:01) (Pin)
Guile def Larry It (8:44)(Pin)
The Crippler def Guile (16:44) (Pin)
Shadow def The Crippler (19:48) (First Blood)
Chris Johansen def Shadow (21:59) (Pin)
Pornoman def Chris Johansen (24:57) (Pin)
Pornoman def Bret Michaels (30:02) (Pin)

Commentated by: Derek The V Extreme
NAW Voltage 12
NAW Voltage 13
NAW Voltage 14
NAW Voltage 15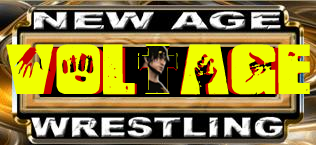 Ad blocker interference detected!
Wikia is a free-to-use site that makes money from advertising. We have a modified experience for viewers using ad blockers

Wikia is not accessible if you've made further modifications. Remove the custom ad blocker rule(s) and the page will load as expected.