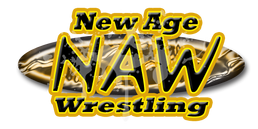 Ran by New-NAW, advertised by WEDF. Its their first ever CAW Search, Looking for new talent for the roster. You can sign up your CAW at one of the following links..
WEDF Forums: http://s6.zetaboards.com/WEDF_Forums/topic/8863558 Something CAWful Forums: http://z7.invisionfree.com/Something_CAWful/index.php?showtopic=5418

Enter by signing up for the forums and posting one of the following..
Posting a CAW Wikia link to your CAW (if it has a picture on it)
Give me a formula for your CAW on WWF No Mercy
Give me information of your CAW along with a picture or video
Winners
The Entry's were cut off after New-NAW Caught in the Crossfire. The winners were announced on New-NAW Mayhem 11. The winners of the search where Joe Omega and Jeri-MAX Eastern Star, Slag.
Ad blocker interference detected!
Wikia is a free-to-use site that makes money from advertising. We have a modified experience for viewers using ad blockers

Wikia is not accessible if you've made further modifications. Remove the custom ad blocker rule(s) and the page will load as expected.