New-NAW Central Zone Championship
Details
Current champion(s)
Lemarcus Carter
Date Won
July 18th, 2018
League
New-NAW
Brand
{{{brand}}}
Introduced
June 24, 2012
Retired
{{{disbanded}}}
Most reigns
{{{mostreigns}}}
First Champion
Tyler King
Last Champion
{{{lastchamp}}}
Longest Reign
Joe Omega (919 Days)
Shortest Reign
Andrew Liana (17 Days)
Heaviest Champion
Monty Brown (265 lbs.)
Lightest Champion
Steven Raden (187 lbs.)
Other Name(s)
New-NAW Intercontinental Championship
T.Y.S.O>N Intercontinental Championship
Past design(s)
{{{pastlookimages}}}
The New-NAW Central Zone Championship is the midcard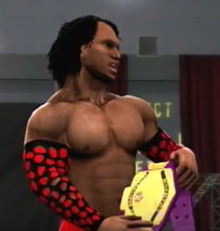 championship in the New-NAW East brand. It continues the lineage of the New-NAW Intercontinental Championship and it was renamed after the 2018 brand split.
It would debut at the last show under the T.Y.S.O.N brand name and would then immediately have a name change. The first champion is Tyler King who won the title after winning a 12 Man Battle Royal at T.Y.S.O.N (31) Reckless Rebirth. The current champion is Lemarcus Carter, who defeated Shawn Dynasty at Chapter 5: The Brand Split to win the championship.
Despite Andrew Liana holding the shortest title reign at 17 days, this was due to the accelerated rate of events being recorded and uploaded in June of 2018. Liana defended the championship three times, twice against Steven Raden and once against Butch Simpson.
Joe Omega also holds the longest reign at 919 days due to New-NAW being in hiatus.

Title History
Wrestler
Times
Date
Days Held
Event
Notes
Tyler King
1
June 24, 2012
213
T.Y.S.O.N (31) Reckless Rebirth
Last Eliminated Garet Shetty in 12 Man Battle Royal; Title would be renamed to New-NAW Intercontinental Championship during reign.
The Suspect
1
Janury 23, 2013
68
New-NAW Velocity 7
Defeated Tyler King, The Crippler, & Garet Shetty in a 4 Way Dance.
Zach Starr
1
April 1, 2013
73
New-NAW Hardcore Impulse
Defeated The Suspect 6-3 in a 10 Minute Iron Man Match.
The Crippler
1
June 13, 2013
218
New-NAW New Found Glory
Defeated Zach Starr in a Ladder Match.
Monty Brown
1
January 17, 2014
35
New-NAW Wrestlefest (Day 1)
Defeated The Crippler & Shelton Benjamin in a Triple Threat Match.
Norm "The Storm" Dailey
1
February 21, 2014
N/A
New-NAW Aggression
Link
1
????
????
New-NAW Velocity 52
Steven Raden
1
April 21, 2015
N/A
New-NAW Mayhem 21
Cesaro
1
????
????
New-NAW Velocity 71
Title vacated after Cesaro was sidelined with a shoulder injury.
Joe Omega
1
December 7, 2015
919
New-NAW Anarchy II: The New Beginning
Won the vacant championship in a battle royal.
Title vacated at Hardcore Impulse II after Joe Omega is entered into the Elimination Chamber match for the World Championship.
Andrew Liana
1
June 13th, 2018
17
New-NAW Hardcore Impulse II
Won the vacant championship in an Extreme Rules fatal four way that also involved Shawn Dynasty, Larry It, and Butch Simpson
Shawn Dynasty
1
June 30th, 2018
18
New-NAW Chapter 3
Defeated Andrew Liana, Larry It, and Zach Starr in a fatal four way.
Title is officially renamed the New-NAW Central Zone Championship and is to be used as the midcard title for the East brand.
Lemarcus Carter
1
July 18th, 2018
3+
New-NAW Chapter 5: The Brand Split
Defeated Shawn Dynasty to win the championship.