)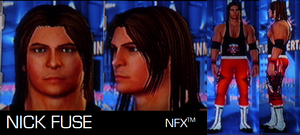 N.Harrison Granger (Born April 18, 1969) Was Know as a Free Agent Jobber that invaded WWCW and is a Free Agent looking for Titles To Steal.
Shonen Gakuretsu. (2005-2006)
Granger Was know as a Jobber Named Nick Hyped, And made his debut on a web-match featuring SGT Billy, LumberJack & another local jobber. He then Won The Match By count-out, He Was In Other House Matches soon later.
The Death Of A Fallen Hero.
On August 15 2006, Nick Hyped Became Sad after the death of his father, he heard the news soon later. thats when he became the most dangerous man Nick Fuse. he then left wrestling.
World Wide Championship Wrestling (2010)
Nick Fuse Returned One More Time To the ring as a Legend As Member Of the New Bloods Alliance. He then Recruit Suspect And They Teamed up and beaten Matt Eichorn Up. then, In The 2011 Royal Throw-Down PPV, WWCW Champ Niel Roll Will Be in a 4 way Anything goes Match Featuring Matt Eichorn, Suspec, And Nick Fuse. The Video Between Matt Eichorn & Suspect First Look Of Nick Fuse
New Bloods Wrestling F'ing Fridays (2010)
Nick Fuse made his return on New Bloods F'ing Fridays, a New Show Created By XXJimmyB, He Return as a Mask luchador killer El Fuse. He Was Scheduled In a Handicap Match With Giant Bobby As they Teamed Up To Take on Rikishi of Too-Cool.
Personal Life
Nick Fuse May be old, But he enjoys fighting In Japan, And His Goal Is to fight in Zeo Japan To become the Top Ranked Superstar Ever, He is a Big Fan Of Bloods Barbwire Cage Matches, Flaming tables and many other hardcore stuff. He has Wrestled and wishes to wrestle against Danny Jackpot & The Giants In MCW, And Even wants to take on Smokey For What he has done.
Nicknames
The man with 1001 Submission Holds.
Ad blocker interference detected!
Wikia is a free-to-use site that makes money from advertising. We have a modified experience for viewers using ad blockers

Wikia is not accessible if you've made further modifications. Remove the custom ad blocker rule(s) and the page will load as expected.