OWA Guts and Glory is the debut CPV and the Major CPV for Online Wrestling Association. It is still in production and will have a set release date.
Concept
Guts and Glory is the birth child of Sean Davis (The General Manager of OWA). Sean did not want to start the promotion with just a debut show. "We want to make an impact on the CAW scene. If we just do a normal show we will just be another "Simple League" that starts with a tournament on episode one. Instead we want to do a CPV, our biggest CPV and have a sixteen man tournament for the World Heavyweight Championship. This way it will shake things up and turn heads". Sean then went on to add more matches to the card to mix things up and to have different types of matches through-out the night.
OWA World Heavyweight Championship Tournament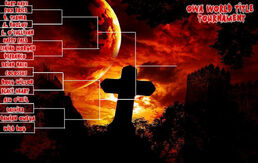 The OWA World Heavyweight Championship will be decided on the night in a 16 man tournament. A OWA World Heavyweight Champion wll be crowned on the night.
Results