Pvt. Part
Statistics
Names
Pvt. Part
Height
5'10
Weight
215 lbs
Born
 ???
Birthplace
Beehive, Alabama
Died
N/A
N/A
Resides
Beehive, Alabama
Billed from
Trained by
United States Army
Debut
2016
Retired
N/A
Pvt. Part is an army veteran and professional wrestler who is currently a free agent. Part was soldier in the military before he was dishonorably discharged for trying to suck his superior officer's cock.
He won the JJPW Tag Team Championship on one occasion under the Freebird Rule, alongside fellow soldiers Sgt. Hardin & Cpl. Wilczynski.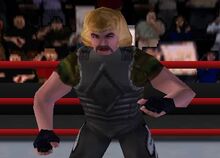 Championships and Accomplishments
Themes
Ad blocker interference detected!
Wikia is a free-to-use site that makes money from advertising. We have a modified experience for viewers using ad blockers

Wikia is not accessible if you've made further modifications. Remove the custom ad blocker rule(s) and the page will load as expected.