The King of Anime Tournament spans the Big 4 of Anime CAW: RCWF, ACW, Pride AC and PAWL. It is a King of The Ring-like Tournament that culminates with the winners of the Divisional Tournaments to face off in a 4 way Last Man Standing Match. The Last Man Standing will become the King of Anime.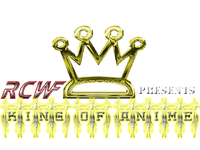 Event Info
Location: Seattle, Washington; Key Arena
Theme: TBD
Date: August-October 2008
The Tournament will span the ACB4's main shows and the finals for each division will be held at the KOA CPV.
Other Info
All Matches are o Holds Barred leading up to the Final Match, which is Last Man Standing.
A Queen of Anime Tournament is also being considered for this CPV.
Ad blocker interference detected!
Wikia is a free-to-use site that makes money from advertising. We have a modified experience for viewers using ad blockers

Wikia is not accessible if you've made further modifications. Remove the custom ad blocker rule(s) and the page will load as expected.