Rosetta
Statistics
Names
Rosetta, Rosetta Queerstreet
Height
5'9
Weight
120 lbs
Born
June 30th, 1983
Birthplace
Gainesville, Georgia
Died
Gainesville, Georgia
Resides
Gainesville, Georgia
Billed from
Trained by
Gaylord Queerstreet
Debut
2016
Retired
N/A
Rosetta Queerstreet is a diva signed to the Raw brand of New-WWE, where she is the current Raw Women's Champion was the inaugural . The former wife of the deceased CAW Gaylord Queerstreet, Rosetta was previously the Smackdown Women's Champion, being as such the first woman since the restored brand split to have held both the Raw and the Smackdown Women's Championships.
Personal Life
Rosetta Queerstreet, despite her name, is actually straight. The name is just an unfortunate coincidence.
Divorce
On May 2nd, 2016, Rosetta had an argument with her husband Gaylord after he claimed that the fish dinner she prepared for him was undercooked. He then threatened to bludgeon her with a hammer. The following week, she sued her husband for divorce. Before the proceedings could be finalized, Gaylord and his relatives were found murdered by Rod Reed.
Rosetta was originally set to debut in DCO, but as a result of Smackdown's women's division having too few competitors and Rosetta having impressed management in a house show match, the decision was made to call her up to the main roster straight away alongside DCO stars Corey Grundy and Rip Beefgnaw.
On her first night in New-WWE, Rosetta defeated Athena Snow, Nikki Bella, Paige, Summer Rae and Maryse in a six-woman battle royal to become the inaugural Smackdown Women's Champion. The following week, she would team with Nikki Bella in a winning effort against Athena Snow and Summer Rae. In that match, Rosetta debuted the Boston Crab as her finishing maneuver in a tribute to her late ex-husband.
On June 21, 2017 Rosetta was traded to the Raw brand as part of the 2017 WWE Superstar Shake-up. After numerous tries, she finally defeated Alexa Bliss on Raw Episode 419 to win the Raw Women's Championship, becoming the first woman in New-WWE since the revival of the brand split to hold both the Raw and the Smackdown women's titles.
Accomplishments & Championships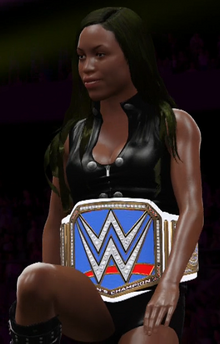 In Wrestling
Finishers & Signature Moves
Boston Crab (Adopted from Gaylord Queerstreet)
Leg Drop DDT
Guillotine Choke
Modified Falcon Arrow
Somersault Legdrop
Discus Elbow
Entrance Music
Talking Body by Tove Lo (The Young Professionals Remix)
Trivia
In spite of being the Queerstreet family member with the least experience in professional wrestling, Rosetta was the first (and only, as a result of their deaths) to have been called up to the New-WWE roster. Gaylord and Rod spent their entire careers in DCO and DJW, while Daryl only appeared in DCO. Additionally, she is the only one of the four to have not competed in DCO due to her being called up before ever actually debuting.