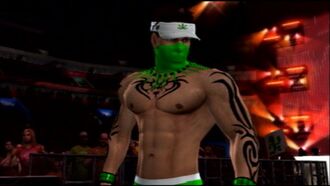 Sawed Off (Born April 20th) is a caw professional wrestler, who currentlly works for
HWE (Homies Wrestling Entertainment).
He is born Juggalo and part of the alliance known as the Juggalo Army.
Sawed Off is a former HWE Unified tag team champion, winning the titles in his homiemania debut. His tag team partner is The Second Coming. He also is amoung his fellow Juggalos in the Juggalo Army, started by Dani 2 Dope and Juggalo Joe.
HWE
2010 Season
Sawed Off debuted in HWE during the 2010 season. He debuted on the new ECW brand hoping to stand out amoung the other rookies. He was entered into the first round of the Money in the Bank tournoment but was eleminated by Sharky in round 1. Sawed Off then became a part of the Juggalo Army, along fellow rookies Hamid, Second Coming, and
Kore
. They wanted to be taken seriously so Sawed Off challenged Bad Deal to a tag match. The Juggalo Army defeated Bad Deal later that night. At the next ppv, the Homies Bash, Sawed off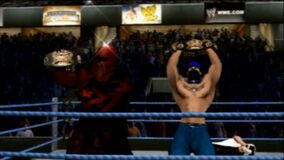 took part in a 6 man battle royale to crown the first HWE Hardcore Champion. Sawed off did well but was eleminated. Sawed Off and Second Coming's next match was against Oniking and Z on Smackdown during the HWE Draft. They lost to
M
's students and the draft pick went to smackdown. During the draft, SC and SO where both drafted to the smackdown brand. Sawed Off surprised many when he came in #1 at the Homies Rumble and elminiated numorus competetors before being thrown out. At Homiemania, Sawed Off and Second Coming won the HWE Unified Tag Team Championship from Z and Oniking, revenge for the draft match.
2011 Season
Sawed Off's first match on raw of the new season was against the new team of
T-Bone
and
Lucky T
. At Homielash, Sawed Off challenged T-Bone for his Hardcore championship. In a close match with interference for both men, T bone retained his hardcore title. The Lucky Bones then got a shot at The Juggalo's Army's Unified
Tag Titles. At TLFC, the Juggalo Army lost the Unified Tag Team Titles to the Lucky Bones. After this loss, Sawed Off competed for a spot in the raw homies chamber. He lost to
The Joker
in the qualifying match. Sawed Off reappeared during the Homies Rumble, entering in at #22. He did not win the match however.
Championships and Accomplishments
HWE
HWE Unified Tag Team Champion (1 time)
Juggalo Army member
Ad blocker interference detected!
Wikia is a free-to-use site that makes money from advertising. We have a modified experience for viewers using ad blockers

Wikia is not accessible if you've made further modifications. Remove the custom ad blocker rule(s) and the page will load as expected.